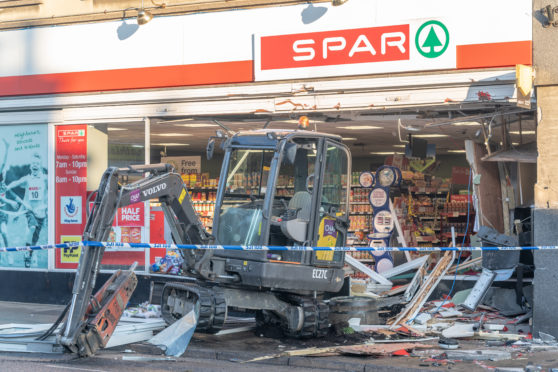 A man has been arrested after a digger was driven into the front of a convenience store in a Moray town.
The front of the Spar shop on the A96 on Regent Street in Keith was wiped-out at the weekend after it was hit by the vehicle.
It is believed the raid was an attempt to gain access to the store's cash point, which was attached to the outside of the building, near to where the digger struck.
Last night, the act was condemned as "a mindless act" by a local politician dismayed by the disruption and likely cost of repair.
Police have confirmed that a 35-year-old was arrested in connection with the incident, which happened in the early hours of Saturday morning.
Yesterday, officers remained at the scene following the launch of an appeal for anyone who may have been in the area at the time.
The incident was captured on camera by at least on passer-by, with footage of the digger in front of the Spar store posted on social media in the aftermath. Its alarm can be heard sounding.
The A96 Aberdeen to Inverness road was closed for several hours following the raid due to the debris, including glass, shop fittings and earth, strewn across the road.
Only in keith does one find the local spar being robbed by a mini digger around 3am while walking to the bakers for a sausage roll and chicken pie pic.twitter.com/C7iNf1DOjw

— ava petrie ♡ (@avapetrie01) January 19, 2019
Officers stood guard at the Spar before the front of the building was boarded-up later in the day on Saturday as staff began the clear up.
It is not known how long the shop will be closed. A notice attached to the front of the store explains it will be open for trading again "as soon as possible".
Moray MSP Richard Lochhead said: "This was a mindless and highly irresponsible act that has caused considerable damage and inconvenience for the local community.
"I am pleased that the police have apprehended someone in connection with the incident and my thoughts are with the staff and neighbours affected."
A police spokesman said: "We can confirm that a 35-year-old man has been arrested after an incident where a digger was used to drive into the front of the Spar shop in Keith.
"The incident happened at about 3.35am at Regent Street in the town.
"Significant damage has been caused to the shop and there was debris on the road, which led to it being closed."
Anyone with information about the incident should contact police by calling 101.