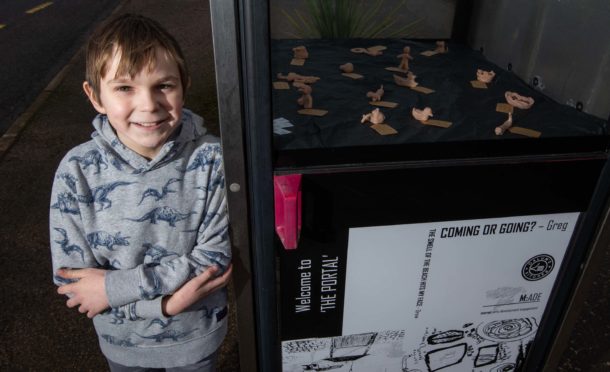 A disused phone box next to one of the north-east's busiest roads has become an unlikely venue for a tiny art exhibition.
The booth next to the A96 Aberdeen to Inverness road faced an uncertain future when BT disconnected the line to it.
However, the lonely box next to the busy route in the village of Alves fascinated arts activist Stacey Toner, who founded the Moray Arts Development Engagement (M:ADE) group to create more local venues for displays.
Yesterday the first art exhibition opened at the kiosk, which has been rebranded as The Portal.
Poetry written by local youngsters now adorns the outside of the box while a menagerie of clay animals and monsters has been assembled inside.
Mrs Toner said she was eager to give the impression of the call point being a "gateway" to another world.
She said: "I've always been fascinated about the idea of making the doorway feel like the crossing from one world into another – and what you would see on the other side.
"I know that the bus stop next to it is very well used so hopefully it provokes a lot of conversation from people while they wait."
Mrs Toner, who works at Moray College UHI in creative development, has set the goal of using a network of phone boxes across the region to host travelling exhibitions.
The New Elgin activist got the idea after learning of a colourful bus shelter on Unst, in Shetland, which is regularly redecorated to commemorate special events and the local area.
A workshop was run for local children and their parents to contribute to the first display in Alves – which encouraged people to imagine what they would see on the other side of a "portal".
Mrs Toner took over the phone box in order to help create more venues for people to display their creative works in the area.
She said: "When we formed the charity we got people together to find out where the gaps were and it came out that there was a lack of space for different community opportunities."