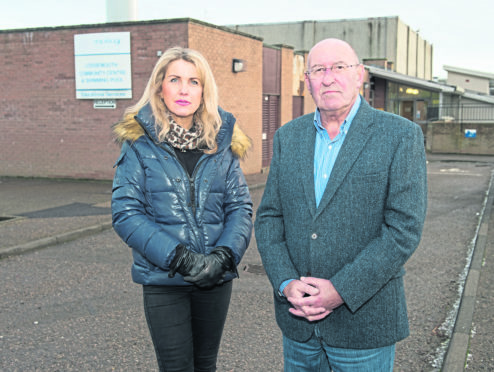 Campaigners fighting to save a Moray swimming pool which has been threatened with the axe while still under construction have been "overwhelmed" by the response to their crusade.
Moray Council's SNP administration group last week revealed plans to save £2.5 million by rolling out a package of unpopular cuts to front-line services including lollipop men and women, libraries and public toilets. 
People in Lossiemouth, Hopeman and Burghead have been left particularly angry at plans to axe the swimming pool and community centre at the replacement Lossiemouth High School.
The pool is already under construction but will not be filled with water under the money-saving proposals.
Residents have now formed the Lossie Coastal Action Group, and are staging a public meeting at Lossiemouth Community Centre at 7pm on Wednesday.
Last night, Lossiemouth community councillor Carolle Ralph said that residents have already demonstrated their support for the campaign.
Mrs Ralph said: "We have had lots of interest, the phone has been ringing off the hook with people offering to make posters and banners.
"This is before we even got round to encouraging any sort of action along those lines, and shows how strongly people feel.
"We have been overwhelmed really but time is certainly of the essence here.
"This is a coastal area and it is important for the sake of safety that children are able to learn how to swim."
The council has advised that the pool, along with another in Keith which is also earmarked for closure, could be saved if there is a surge in leisure memberships and Mrs Ralph intends to knock doors across Lossiemouth and beyond trying to drum up support for the idea.
Organisers hope to gauge public opinion on the proposed budget cuts at the meeting in order to work out which areas they should focus on.
Mrs Ralph stressed that it is "not intended to be about political mud-throwing".
The chairman of the Hopeman Community Association, Dennis Slater, vowed to support the campaign as he explained that the removal of services in Lossiemouth would affect people further west along the coast and in the entire Heldon and Laich ward.