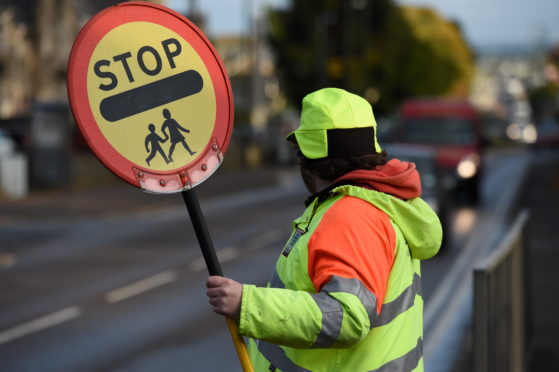 Campaigners in Moray have suggested that parents could pay to retain school crossing patrollers to get pupils to class.
The council is currently considering withdrawing all the posts across the region in order to help plug a £14 million budget black hole.
Now Lossiemouth Community Council has consulted locals on whether they would be willing to pay extra in order to retain the staff.
An online poll run by the group, which had nearly 500 responses, has found that 85% of people would be willing to stump up cash to pay for staff.
It is understood about £6 per school pupil would be enough to pay for all posts in Moray for an entire year.
---
>> Keep up to date with the latest news with The P&J newsletter
---
No proposals have been drawn up as part of the idea about how the money would be used to fund the positions or whether the staff would be employed by the council or another body.
But community council chairman Mike Mulholland believes the idea is worth pursuing to keep youngsters safe on the way to school.
He said: "We've seen from our own survey that it's a hugely popular idea – how it would be administered would be a whole other issue.
"The truth is that this is likely to be the way things are going in the future with more and more things funded or organised by the community.
"I think this is a must. When you're talking about £5 to £10 per pupil for a year it's a total most families can afford – especially when you're talking about the life of a child."
School crossing patrollers are not a service that councils are legally obliged to provide.
Last year, the posts at pedestrian crossings and at lunchtime were withdrawn by Moray Council to help save money.
Elsewhere, Argyll and Bute Council are also considering getting rid of the patrollers while warning parents it is their own responsibility to get their child to school.
And in Moray local businesses are being enlisted as part of a "comfort scheme" to fill the gap that will be left when all public toilets will be closed later this year.
Moray Council leader Graham Leadbitter said: "Times when budgets are constrained often provoke debate about the role of organisations, such as local councils, and the services they provide.
"I think it's right that we look at the roles councils, communities and local businesses can play in supporting services."