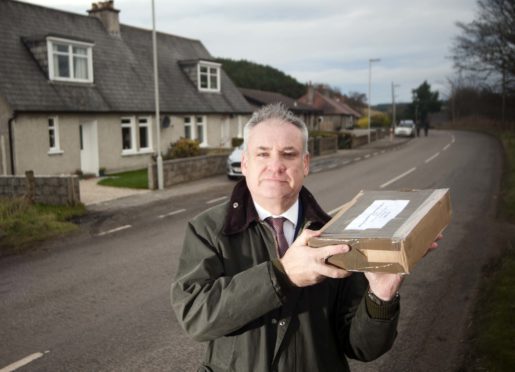 A Moray politician campaigning against "ridiculous" rip-off delivery charges in the north of Scotland has called for a meeting with an online retailer.
Richard Lochhead has written to the chief executive of Wayfair seeking talks about the company's "unfair" policy.
The online retailer offers free delivery on orders over £40, however, the offer is not available for "remote areas".
Although, the majority of Wayfair's shipments are small parcel, which are free to all areas, including remote areas and only their largest shipments are subject to a surcharge.
Wayfair lists 13 mainland UK postcodes as "remote areas", 12 of which are in Scotland and include Moray, Aberdeen and Inverness.
Consumers have been complaining about the policy to Mr Lochhead on numerous occasions.
The SNP MSP has led the campaign against unfair parcel delivery charges, which costs Scottish consumers an additional £38.1m per year compared to the rest of the UK.
It targets online retailers applying excessive delivery surcharges to packages delivered to customers living in Moray and the north of Scotland.
The campaign has received cross-party support at the Scottish Parliament and it has also been backed by eBay and other online companies.
---
---
The Advertising Standards Authority has been investigating a dossier with over 200 companies named in it which was referred by Mr Lochhead.
He said: "Over the last two years I've been inundated with examples of companies  guilty of adding whopping surcharges for deliveries to Moray and the north of Scotland.
"More and more people are complaining to me about Wayfair's ridiculous surcharges – there's no doubt that Wayfair is one of the biggest culprits.
"With 12 of the 13 mainland postcodes exempt from free delivery being in Scotland, it is quite clear that Wayfair's delivery policy discriminates against Scottish consumers.
"The company's policy to charge up to £40 for delivery to areas across the country is one reason why these surcharges are costing shoppers in Scotland an extra £38m a year compared to the rest of the UK.
"This is just another example of why I'm urging the UK Government to consider legislation to curb this kind of behaviour and I hope Wayfair will agree to meet with me soon so I can try to persuade them to change the policy."
A Wayfair spokeswoman said: "It's important to note that as a seller of home goods and home décor, our large parcel items are in fact very large as they include products such as sofas, tables and desks.
Even so, regardless of the cost to Wayfair, large parcel shipments to Scotland (besides the postal codes that have no surcharge) cost our customers a flat fee of £25 (one-person delivery) or £40 (two-person delivery).
"This is very low relative to other retailers. Our large parcel surcharge to customers is typically lower than what Wayfair pays its couriers.
"Customers in Scotland living where there is a shipping surcharge order from Wayfair at a higher rate than customers where there is no surcharge; we believe this is because our shipping costs are reasonable and better than competitors.
"We are continuously looking into delivery options and rates in Scotland to ensure that we are offering the best value and overall shopping experience to all of our customers."