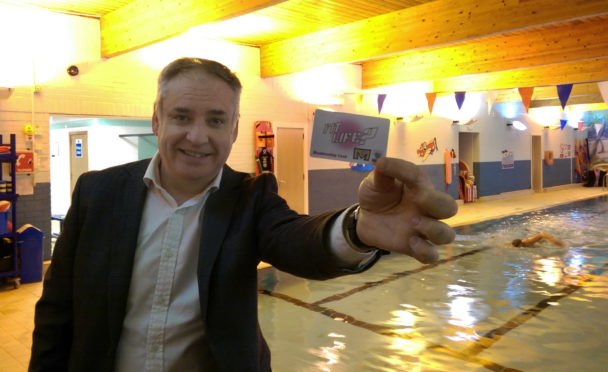 People power has saved two swimming pools in Moray from closure.
Leisure centres in Lossiemouth and Keith had been earmarked for closure as part of the cash-strapped authority's plans to plug a £14million funding gap.
But the SNP administration left the door open to the facilities being safeguarded if 300 locals signed up for the Fit Life leisure loyalty scheme.
Yesterday it was revealed the total had already hit 315, with more than a week left of the "use it or lose it" campaign.
---
---
Colourful banners drawn by children urging the council to keep the pools open while protecting other services including libraries and school crossing patrollers have adorned the centres in recent weeks.
Now it is hoped that other leisure services could also be protected if the huge uptake in sign-ups continue.
However, opposition councillors branded the campaign as an "underhand tax" to lever more money out of residents.
Council leader Graham Leadbitter described the response from communities as "phenomenal".
He said: "There's been a big uptake in Lossiemouth and Keith where the pools are under-threat but the response has been Moray-wide to support these facilities.
"It's important to keep the momentum up though because if the memberships keeps increasing then there's a distinct possibility we could use that to offset the Active Schools cut as well.
"There are other leisure services that could come under threat at the moment so increasing the level of income we have will give us more flexibility."
The 315 sign-ups so far received by the council will generate about £100,000 over the course of the year to make the pools more self-sustaining.
Last year, all the leisure centres in Moray relied on a total subsidy of about £500,000 in order to continue to operate.
Senior officers have also pledged to investigate new additions to the loyalty scheme to make the facilities more financially sustainable – including a corporate membership for companies to pass to staff, a discounted youth price and sponsorship opportunities for businesses.
Buckie mum Nicola Belcher, who is a parent representative on the council's children and young people's committee, said: "Some children are maybe past the point of needing lessons but want to go to a pool on their own or with friends. The gym at Buckie has lowered the age to 12 now so there's interest there."
Meanwhile, it was also revealed that there has been an upturn in Fit Life memberships at Moray Leisure Centre in Elgin, which is counted separately due to it being operated by an independent company.
Yesterday, Moray MSP Richard Lochhead signed up for his own membership at Lossiemouth's swimming pool.
He said: "This campaign has been people power in action. Clearly the scheme still needs to be promoted to generate as much income for the council as possible to offset the financial pressures on leisure services, particularly Active Schools.
"It's a win-win because it gives families the use of the swimming pools while giving the council confidence with long-term income generation to keep them sustainable."
However, Conservative Forres councillor Claire Feaver was concerned the initial surge in demand may soon drop off.
She said: "From a cynical point of view, this could be looked at as an underhand tax on people who wish to do things.
"For me, the really interesting figure is what the expected drop-out rate is on direct debit payments."