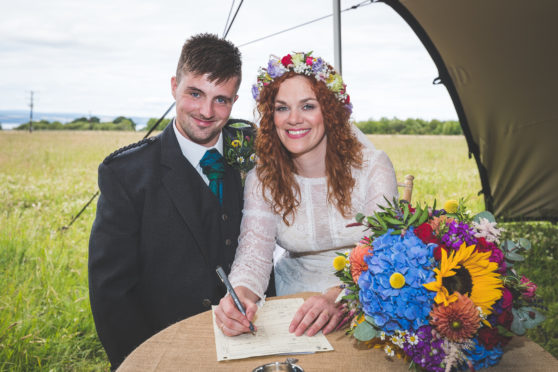 A Moray couple used their special day in a very unselfish way- by asking their guests to give money to charities very close to their hearts.
Sonia and Shaun Kerr, from Elgin, were married in July last year and wanted to find a way to give back to some causes while they celebrated their wedding.
They asked their assembled guests to contribute a donation to three charities, and received £2,150 together with a whole pile of pants.
One of the beneficiaries will be Keiran's Legacy, which was formed to remember a Moray teenager who died in a road accident while out biking.
Sandra and Gordon McKandie have been fundraising for their son ever since and help to buy community defibrillators for places throughout the north-east of Scotland.
In total, £1,550 was raised for the charity – which is one Mr and Mrs Kerr are very familiar with.
Mr Kerr previously took part in a cycling coast-to-coast challenge in 2017 alongside work colleague Ian Walker, raising £2,100.
---
---
And when the couple came up with the idea to ask guests to donate money instead of presents as a way to contribute to some fantastic causes, they knew the defibrilator cause had to be one of them.
Mrs Kerr said: "Shaun had previously done the cycle for Kieran's Legacy and he knew the McKandie family through that.
"He is a cyclist and we were both struck by what happened to Keiran and felt that it would be nice to contribute something.
"It is a fantastic cause. They have been driven by something so sad but they are making a real difference, helping to supply defibrillators to communities."
Yesterday, Sandra McKandie hailed the couple for their generosity.
She said: "I think it's amazing they were so nice to think about us on such a special day and it really touched our hearts.
"We will use that money for saving lives and we will be forever grateful to them for this."
In addition to supporting Keiran's Legacy and gathering £600 for Help Refugees, the couple also asked for a slightly more unusual donation –  unused pairs of pants.
The underwear – guests generously contributed 750 pairs – will benefit Scottish charity Smalls For All.