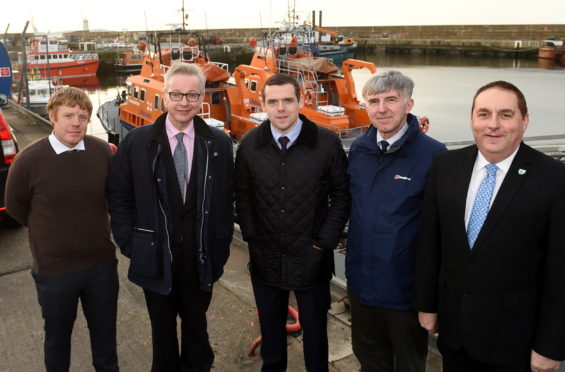 A top government minister insisted yesterday Brexit will lead to a revitalised fishing industry in the north-east of Scotland.
Michael Gove stood in Buckie Harbour to pledge to reverse four decades of fishing industry decline.
He spoke to local fisherman to hear about their concerns and opinions on splitting with the EU and told them the government will not back down on plans to take back control of Scottish waters.
The Cabinet Secretary of State for Environment, Food and Rural Affairs, reassured those fathered that the government would be leaving the EU with exclusive rights to a 200 mile economic stretch of water and out of the controversial Common Fisheries Policy (CFP).
And Mr Gove said he believes the decline of the fishing industry at ports in the north-east of Scotland will be halted when the UK leaves the EU.
He said: "The government is totally committed to take back control of our waters as we leave the EU.
"Our existing economic zone extends out to 200 miles. It should be ours and will be once again when we leave the EU.
"That creates a sea of opportunity; a huge chance for our fishing industry to revive.
"For four decades now we have seen the fishing industry decline and communities like Buckie, Portsoy, Macduff and Cullen have all lost out as a result.
"Now there is a chance for us to be able to ensure the fishing industry revives.
"There are thousands of new jobs and millions of pounds of new money making its way into our economy."
---
---
The waters around all EU's member states, with a limit of 200 miles, are pooled when it comes to fishing, which means boats from one country can fish in another's seas.
However, when the UK leaves the EU, those waters will exclusively become the UK's again.
There have been fears from fishermen that those rights would be traded away during negotiations but Mr Gove moved to allay such concerns.
He said: "Brexit will mean we have full control over a far larger area of UK waters.
"We will be able to ensure that those who fish in the waters obey our rules, that they have specific economic links with our economy here and therefore we will see many more fish landed."
Hamish McPherson, chairman of the Burghead and Hopeman branch of the Scottish White Fish Producers Association (SWFPA), believes that Brexit will lead to a better fishing industry in the north-east.
He said: "We will be able to take back control of our waters and get ourselves out of the dreaded CFP, which was the worst thing to happen to our fleets.
"It will definitely have a positive impact on the Moray vessels out in the North Sea."
Bertie Armstrong, Chief Executive of the Scottish Fishermen's Federation, also insisted that the Brexit deal would "lift the whole industry".
He said: "If you look at figures, it will be a progressive move for us.
"Scottish vessels landed 65% of British catches last year, but 60% of our stocks are taken by the Europeans.
"The government will let us recover them. That will double the value of Scottish fish and lift the whole industry."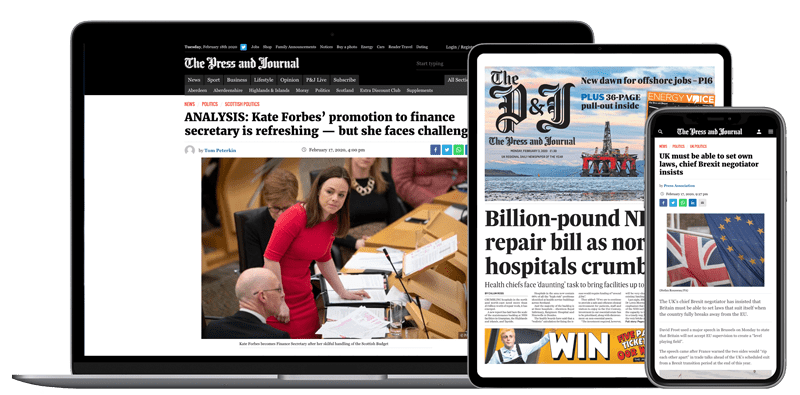 Help support quality local journalism … become a digital subscriber to The Press and Journal
For as little as £5.99 a month you can access all of our content, including Premium articles.
Subscribe