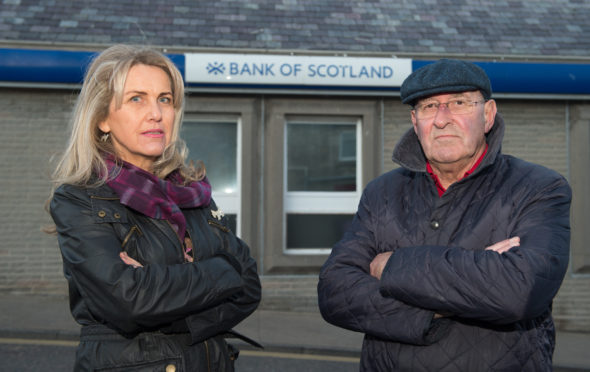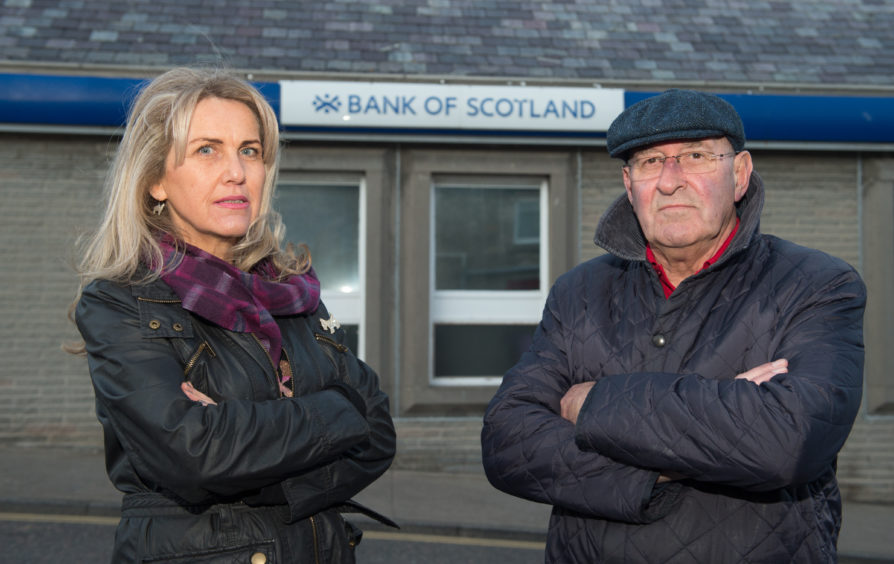 Campaigners fighting to retain their last bank have been dealt another blow after the UK Government refused to step in to help.
The Bank of Scotland in Lossiemouth will shut later this year due to a fall in customers – despite a massive planned expansion of the airbase which will bring in thousands of workers.
It is the fourth bank in the town to shut within the last few years.
Residents of the town wrote to the UK Government through MSP Richard Lochhead to ask for assistance, but the Treasury has now said it can not intervene in such matters.
Mike Mulholland, from Lossiemouth Community Council, last night said it was the "wrong decision" – and pointed to the taxpayer-funded bailout of banks following the financial crash in 2008.
He said: "We wrote a letter to the Treasury to ask them to step in but got a response back saying that the government does not interfere in these matters.
"I think that is wrong, after they took money out of our pockets to save them and all the government did for the banks, it just doesn't add up.
"Leaving the decision to the banks will only go one way, it is in the bank's interest to save money so they will shut the branch anyway."
Now the group is writing an open letter to all the other banks, asking them to consider opening a branch in the town and highlighting what it has to offer – as well as highlighting RAF Lossiemouth's £500million expansion.
Up to 2,000 personnel and their families are expected to move to the area over the next two years when it becomes home to a fleet of new P-8 Poseidon aircraft.
---
>> Keep up to date with the latest news with The P&J newsletter
---
Mr Mulholland said: "We've got one last throw of the dice, I'm in the middle of writing a letter to all the other banks detailing what Lossiemouth has got to offer which I will ask our MP to distribute."
In 2017, a report in Which? showed Moray is one of areas hardest hit by bank closures in Scotland, with figures showing 40% of branches have closed – with many communities left with none at all.
In the Treasury's response, Economic Secretary John Glen wrote: "Although I can understand your dissatisfaction, decisions on opening and closing branches are taken by the management team of each bank on a commercial basis and the government does not intervene in those decisions."
Campaigners vow to take Lossiemouth bank closure fight all the way to Westminster
Mr Lochhead said it was hugely frustrating, and acknowledged the strong local feeling about community banking services being "decimated".
He added: "It's particularly hard for the public to stomach when it was taxpayers' cash that bailed out these banks at their time of need – and now these banks are bailing on communities in Moray.
"People in Lossiemouth need the UK Government to step up and take action to save their last bank – Conservative ministers need to start putting the needs of communities like Lossiemouth ahead of the interests of the big banks."