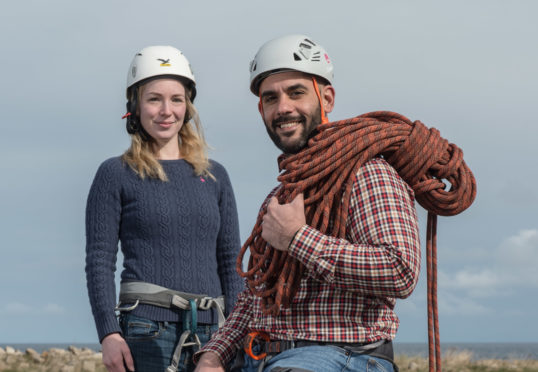 A group of Moray locals will brave huge heights to take part in a charity abseil down one of Scotland's most iconic bridges.
The challenge consists of them travelling free-fall style from the Forth Bridge which is one of the country's most recognisable landmarks and a Unesco World Heritage Site.
It is a 165ft drop with a soft landing on the sandy beach below and the group is undertaking the challenge to raise money for Lossiemouth charity Outfit Moray.
The team of 10 people includes Moray Council workers and the partners of RAF Lossiemouth personnel who are all looking at ways to do something different in aid of the community.
Dimitris Chrysanthakopoulos is one of those taking part and is hoping to overcome his life-long fear of heights by abseiling down the mammoth structure.
He is an active schools co-ordinator for Elgin and is looking forward to the event.
He said: "This is a very good challenge as I am scared of heights, but I am doing this for a good cause and to help the kids in Moray.
"I'm looking forward to it as it is a memorable thing to do and it is probably my biggest challenge.
"I've been scared of heights my whole life and this is an attempt to conquer my fears, and afterwards I can maybe take up climbing."
Kirsty Cantrill recently moved to the area in October after her husband was stationed at Lossiemouth and is taking part because she wanted to challenge herself.
She said: "I've just moved up here and want to support the community anyway I can.
"I don't mind heights and I'm trying to be more adventurous and put myself out there."
All 10 participants have been set a fundraising target of £185, with all the money going towards Outfit Moray.
The event takes place on June 9 and you can donate at mydonate.bt.com/fundraisers/dimchriss