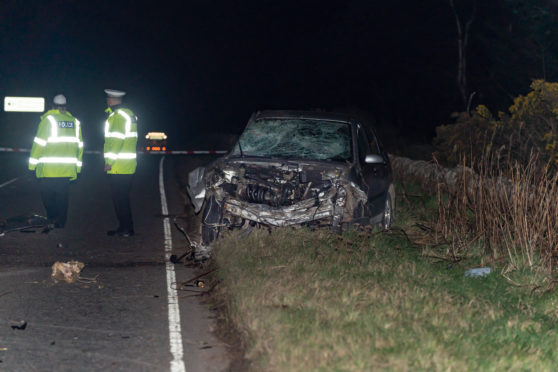 Three men have been arrested following a crash on a Moray road on Monday night.
And an eye-witness has described the wreckage he found after being first on the scene.
Police and three ambulance crews attended the incident on the A98 Buckie and Cullen road near Findochty at around 8.40pm after reports of a one-vehicle crash.
The five occupants of the vehicle were conveyed to Dr Gray's Hospital with non life-threatening injuries.
Afterwards, police confirmed that three of them were later arrested for unrelated crimes.
Lukasz Mezyk was driving home to Elgin from his job in Turriff when he came upon the "unpleasant" scene and, after phoning the emergency services, rushed over to help.
With the car smashed up on the side of the road, Mr Mezyk saw debris from the vehicle all over the place, along with three of the occupants.
He said: "I saw a car on the side of the road, and there was some chap wandering around the scene, one hanging from the boot and one in the ditch.
"I phoned the police and ambulance before going and helping to get the man out of the wreckage and sat him in my truck until the services came, he was walking around so that was a good sign.
"I then looked to see if there was anyone else and, half an hour later, I found a fourth person under the trees who couldn't move and then searched for a fifth, but couldn't find anybody.
"It wasn't a pleasant scene to witness and you felt like you had to help out. I hope they are okay, they were all speaking but weren't making much sense."
The A98 between Cullen and Buckie was closed for more than six hours as crews investigated the incident and cleared the debris from the road.
A force spokeswoman said the five occupants of the vehicle were taken to Dr Grays Hospital with no- life-threatening injuries.
Three of the occupants were later arrested for unrelated offences, which included one alleged case of vandalism.