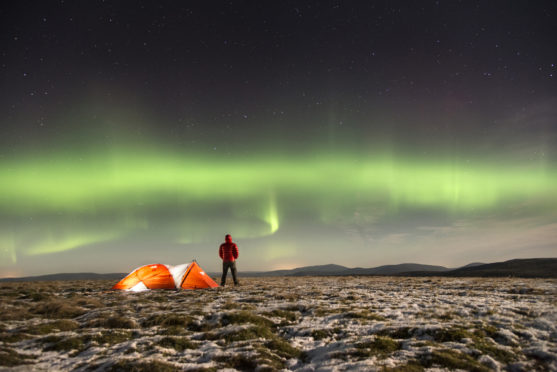 Astronomy enthusiasts are preparing to reach out to locals in the Cairngorms about the possibility of establishing an observatory.
The area surrounding Tomintoul and Glenlivet was designated as the world's most northerly dark sky park last year – recognising the environment for providing a clear view deep into space.
Now the Cairngorm Astronomy Group is investigating the possibility of establishing an observatory to allow people to get closer than ever before to the stars.
Tonight an event will be held in Tomintoul for members to gather views from members of the public.
Yesterday, organisers explained that the drop-in session was merely discussing the "concept" of a potential building with final plans yet to be drawn up.
Jackie Taylor, Tomintoul and Glenlivet Landscape Partnership's programme manager, which is assisting the astronomy group in running the event, explained the possibility had come about as a result of "hard work" from locals.
She said: "To make the most of these astronomical wonders and secure the legacy of the Dark Sky Park the concept of building a public observatory has been aired and a community-led project to realise this vision is being developed.
"An observatory would provide a stimulating experience for visitors to enjoy and would aim to boost the local economy."
The Cairngorms Dark Sky Park is just the second in Scotland after the Galloway Forrest in the south-west – where studies have estimated businesses benefit from an annual £500,000 boost to the winter economy from visitors eager to gaze at astronomical wonders.
Hills have been found to shield the area surrounding Tomintoul and Glenlivet from light pollution while Moray Council, distilleries and nearby farms have also supported the initiative by adapting their own lights to help make the stars stand out.
Last night, Laurie Piper, operations manager for Moray Speyside Tourism, backed the principal of an observatory.
He said: "Dark skies tourism is a significant and growing segment of the visitor economy.
"It makes perfect sense to look at every possible way to maximise the benefit of this tourism sector to benefit the area."
The drop-in session about the potential observatory will be held tonight at the Glenlivet Estate office in Tomintoul from 4pm to 8pm.