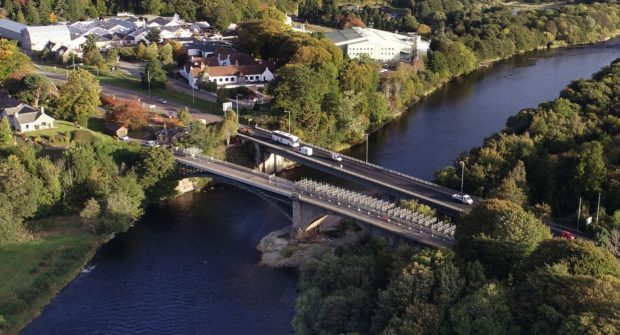 Engineers involved in a major £500,000 project to replace a gas main crossing Scotland's fastest-flowing river expect work to be finished by the end of June.
The complex task of removing and replacing the pipe from the former road bridge over the River Spey at Fochabers began in February.
All 500ft of the old steel tube that is currently attached to the bridge will have to be removed from the structure by SGN.
A further 325ft of defunct pipeline which was buried under the ground has already been dug up by crews to be replaced by plastic.
Engineers are currently welding the new metal main to the underside of the pedestrian bridge before turning their attention to removing the old infrastructure.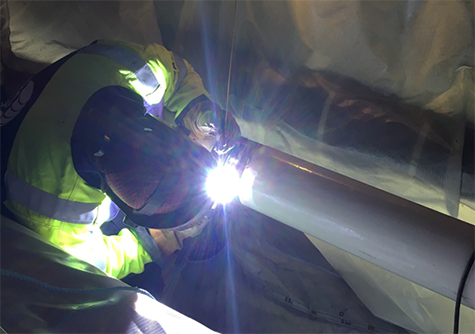 Throughout the project, the 19th-century bridge over the Spey has been sheltered to protect the work crews and infrastructure from the elements.
The crossing was the main route for traffic over the river until the 1970s when it was replaced by the current A96 Aberdeen road structure.
SGN believe the work will ensure that residents in the area will continue to get a safe and reliable supply of gas decades into the future.
Planning was done with Sepa, Moray Council's ranger service, the Spey Fishery Board and Bear Scotland in advance of the operation to minimise disruption to wildlife, businesses and residents.
Project manager Iain Stuart said: "Our new main is being expertly welded to the underside of the bridge right now.
"We have already replaced the has main on either side of the bridge with a new plastic PE pipe which has a minimum lifespan of 80 years.
"This means that, once the work has been completed, homes and businesses in Fochabers will enjoy the benefits of a continued gas supply for many years to come.
"At the end of the project, which we hope will be completed in June, we will remove the old gas main from the pedestrian bridge."