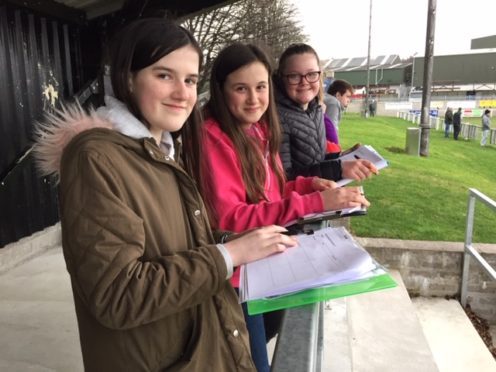 School pupils in Moray have teamed up with a Highland League team to boost their English and maths skills.
Students at Speyside High School attended a match in Rothes to carry out various tasks to boost their education.
The initiative was supported by Developing the Young Workforce (DYW) Moray, which aims to bring learners and employers together to improve their employability chances.
The pupils from S1 and S2 collected statistics from the football match before interviewing some of the players and the referee before compiling them into a report.
Acting depute head teacher Kevin Pirie said: "This project was about delivering education in an alternative way and it's been a great success.
"As well as the curriculum successes, the project has promoted shared learning as each pupil was responsible for collating different data which they have then shared to create their presentations and given the pupils an insight into the workings of a football club.
"This was the first time we have run this project, but due to the successes and the positive outcomes for the pupils, the hope is that we will be able to do it again."
Sarah Baxter, manager of DYW Moray, said: "The pupils have not only increased their educational attainment, but they have worked with and got to meet with people in a real working-life scenario."