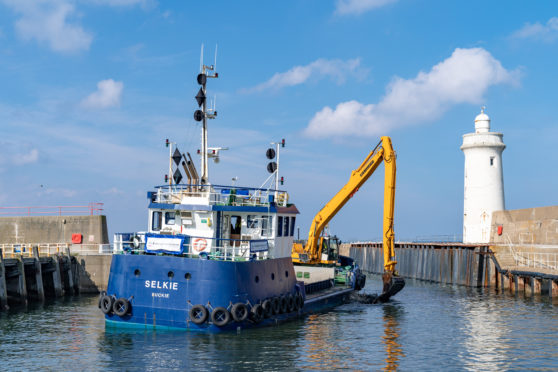 Moray Council's beleaguered dredger has returned to operation after being tied up at a harbour for six months.
The Selkie was out finally clearing silt again from its home port at Buckie on Friday and Saturday.
Yesterday, assertions were made that the £2.5million vessel will begin soon be "earning its keep" once again after staffing issues forced its inaction.
It is understood a new crew has been put together for the dredger after applications to find a new skipper were invited by the council in December last year.
Last night, Buckie councillor Gordon Cowie said the vessels return to action would come as a relief to many coastal communities.
Moray Council's £2.5 million dredger has failed dramatically in its role
He said: "It's good to see it up and running again because it's become a bit of a laughing stock with some people.
"It's going to start clearing the channel at Buckie Harbour before it gets out to Burghead and all the harbours along the coast.
"Hopefully it gets back to normal now and it starts earning its keep."
The Selkie was launched in 2016 amid hopes it would save the council money by preventing its need to hire a dredger from elsewhere while also generating an income by contracting it out to do jobs elsewhere.
Senior council figures predicted the 90ft craft would soon be paying for itself when it was launched by generating an order book from across the north of Scotland.
However, while the Selkie has been moored at the quayside since last year its predecessor the Shearwater, which was sold for scrap by the authority seven years ago amid claims it had become "a liability", has been dredging at nearby Cromarty.
Yesterday, Buckie councillor Sonya Warren explained that the vessel had already begun much-needed work at the town's authority-owned port.
She said: "It's going to be good to have our harbour being dredged again. It's certainly much-needed in Buckie.
"Just getting it operational again will mean the council will be saving money by not having to hire in another dredger to do the work. Hopefully, it can start bringing in money from elsewhere again in the future."