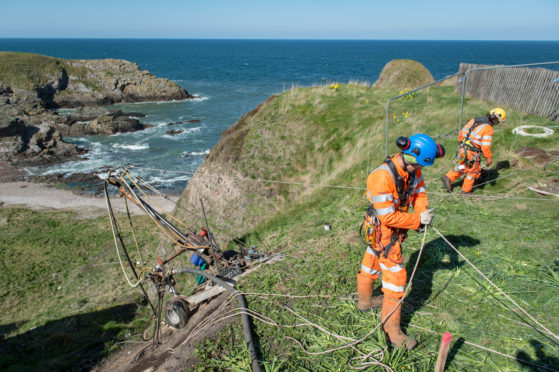 A former harbour office has been repurposed as an information centre as work on one of Moray's biggest landslip projects moves ahead.
Specialist teams have been roping down cliff faces at Portknockie to drill the holes that will enable the fitting of 260 massive screws into the slopes.
Moray Council has financed the "vital" £1.7 million scheme in an effort to ease concerns about landslips in the village – and protect its main road.
Homes were left perilously close to the cliff-edge after a downpour struck in September 2017 and they and the village's infrastructure remain at risk.
In a bid to keep locals informed about what is going on, an information centre has been established in the disused Portgordon Harbour Office.
Drawings and a schedule of works are on show there, allowing locals to keep updated on the project's progress.
At the moment, rope access drillers are installing about 260 massive screws, some as long as 20ft, into the slope.
They are meant to prevent a repeat of 2017, when mud and rubble plunged down the cliff as a result of heavy rain.
Moray Council's senior engineer Will Burnish said  the project was the biggest of its type the local authority has undertaken.
He said the work was "urgent" as the road in the village would be at risk of disappearing if intense rainfall occurred during the year.
Mr Burnish said: "Another slip would cause the loss of some of the road which is a problem because it is part of the public highway and could cause it to be closed for a good while.
"At the moment we are installing about 200 giant screws which we will screw into the embankment.
"We will then put mesh over the top and tie it up, which will stop the slips from moving any further.
"We are carrying out this work on five slips and are due to be off site at the end of July for all of them."
Contractor Morrison Construction has created a new road to the village's harbour to be used when the route snaking down the slope is closed as part of the complex engineering efforts.
More landslip work is due to be undertaken in Glenernie, south of Forres, within the next five or six weeks.
Keith and Cullen councillor Ron Shepherd said the work being done is "vital" for the area.
"It's very important to see this work being undertaken and its good to see the council finally step up and do something about this," he said.
"It offers peace of mind to the residents here."