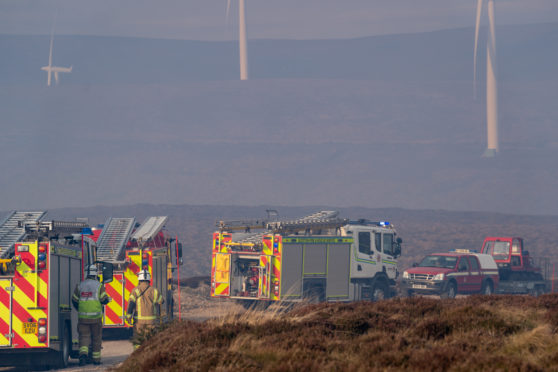 A Speyside landowner has hailed firefighters for preventing a large wildfire from spreading to a nearby wind farm.
Dozens of firefighters worked through the night to bring the fire, in the Ballindalloch Highland Estate, after the alarm was raised by a farmer at about 10.30pm on Saturday.
The flames continued to spread towards the 28 turbines at Paul's Hill wind farm yesterday morning, and a helicopter was on stand-by to waterbomb the area.
However, the fire crews managed to contain the blaze, which is believed to have started in some heather and gorse bushes.
Last night, estate co-owner Clare Russell – Lady Lord Lieutenant of Banffshire – praised the emergency services for their work.
She said: "We have no idea how it started but it seems like it had nothing to do with the estate.
"We were very lucky as one of our tenant farmers had got back late on Saturday and he immediately advised the fire service.
"Luckily, there are no houses nearby but we were worried about the windfarm as it started below it but thankfully it was calmed down and put under control by the amazing firemen.
"It has burnt a lot of heather that needed burning anyway."
Six crews, made up of 25 firefighters, battled the blaze using specialist gorse equipment and an one off-road vehicle was called out to navigate the difficult terrain.
The fire spread through the fields of the estate which were once used for shooting grouse.
Residents in neighbouring communities were advised to keep their windows shut yesterday morning as thick smoke continued to fill the air.
It was the second wildfire in 24 hours, with crews also sent to Buckpool Golf Club on Saturday afternoon.
Speyside Glenlivet councillor Louise Laing said she hoped the incidents were not sign of things to come, referring to the spate of wildfires last summer.
The blazes – described by one firefighter as the worst he had seen in 30 years – devastated land across the region, with one at Clashach Quarry in Hopeman lasting five years.
Mrs Laing said: "I want to say thank you to all the firefighters who battled extremely hard to combat the fire.
"I hope that this is not a sign of things to come considering the amount of gorse fires that happened last year."
The fire service had warned of an increased risk of wildfires over weekend.
Fire crews managed to completely extinguish the fire after battling it for almost 17 hours.
A fire service spokeswoman said: "A stop message was received at 3.32pm with fire crews using a drone to do a survey of the area to find out if it was fully extinguished.
"They then drew back from the hill."
It is not known whether or not they will remain in the area.