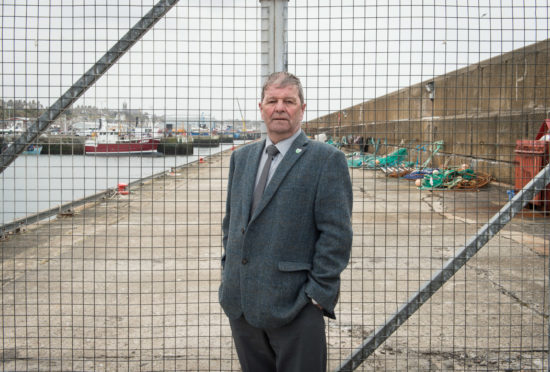 Moray Council has pledged to continue to allow access to a popular harbour pier once repairs have been completed.
The North Quay in Buckie has been a well-trodden walking route and much-loved fishing spot among locals for generations.
However, fears were raised that gates put up for safety reasons while maintenance is being done next month could be left up once the work has been completed.
Yesterday, harbour officers at the council insisted that access would be restored again once the work to the quay walls had been completed during the summer.
Buckie councillor Gordon Cowie stressed that only bad weather should block walkers from stepping onto the pier once the repairs are done.
He said: "It's common sense that if the sea is going to be rough then people shouldn't walk along it. I think people are smart enough to work that out for themselves though.
"There's always been fishing there for years and years and it's always been a working harbour so there's no need for it to change now."
Buckie councillor Sonya Warren added: "It has been the custom that people can walk along the pier for as long as the harbour has been there."
Nicola Moss, the council's transportation manager, said that efforts would be made to preserve the town's traditions.
She said: "Once works are complete the pier will be open more routinely. However, while there is historic public access it is a working harbour and the gates will be closed when we feel it's necessary.
"People have climbed over and around them in the past. We have to balance off what people want to do in terms of fishing and leisure and maintaining safety."
Mrs Moss also confirmed there were no plans to do away with the port's night watchman's position, which has been under threat at Macduff, due to the need for round-the-clock operations.
Meanwhile, safety changes have been made at the harbour following the death of a woman who fell from the North Quay in August last year.
Following a debrief session it was agreed the life jackets previously used were "great life savers" but "inferior" when assisting a rescue. Two new manual life jackets, which were developed with the coastguard, have since been bought which have been used routinely by the harbour's pilot boat and safety man since.