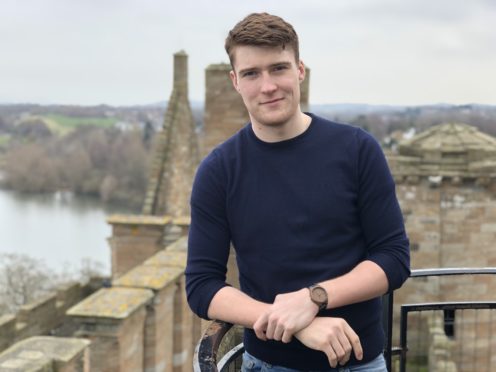 A promising engineering student has died aged just 22 after having an epileptic seizure.
Joe Robson was diagnosed with epilepsy when he was seven, and often had to use a wheelchair.
However when the Speyside High School pupil was 17, doctors tried new medication and his symptoms disappeared – allowing him to drive, travel and move to Aberdeen to study mechanical engineering.
---
>> Keep up to date with the latest news with The P&J newsletter
---
But earlier this month, he suffered a seizure back at home near Aberlour and was found dead in his bed.
Parents Liz and Jeff yesterday paid tribute to their "brave and fearless" son – and urged those who loved him to make a donation to fund further research of epilepsy.
Mrs Robson described her son as funny, caring and loving and said: "Joe was very brave and fearless and would always take time to listen to other people's problems.
"His experience with illness gave him lots of empathy. We are all very proud of Joe and of the way he lived his life."
Joe was back home studying for his exams when he died on April 7.
Just the day before his death, he had told his parents about two upcoming interviews for summer internships and gone out to buy new clothes in preparation.
And Mrs Robson said her son had plans to move to America after university to be with girlfriend Rachael Beyer – who he met while she was visiting the north-east on a family holiday.
Mrs Robson said: "After graduating in summer 2020, he planned to move to America to be with Rachael and they planned to get engaged. He was very kind and compassionate."
After leaving school, Joe studied at the University of Highlands and Islands at Moray College before joining Aberdeen University as a second year student in September 2017.
He moved to the city and lived with five friends, including Christopher Kennedy, 21.
Christopher said: "Joe always managed to show so much patience and compassion to people regardless of what he himself was going through.
"What made him popular was his harmless attitude. His flatmates often described him as a 'gentle giant' simply because of his continuous kindness and compassion to people, plus he is super tall hence the 'giant'."
One of Joe's proudest moments was travelling to Silverstone racetrack in England to compete as part of Team Aberdeen University (TAU) in the Institution of Mechanical Engineering's (IMechE) Formula Student event last July.
The team came 15th out of 120 overall and 2nd among the Scotland teams.
Joe's role was welding the car and helping maintain it, and he had been looking forward to taking part again this year.
TAU Racing project manager and fourth-year mechanical engineering student Arran Strutt said: "Joe was an exceptional team member with an infectious personality and diverse range of practical skills.
"He was a hard worker and good friend to us all and our memories with him will never be forgotten."
Joe's funeral will be held at Aberlour Parish Church at 1pm today. Aberdeen University is running a bus to and from the service for his friends.
Attendees are asked to wear "bright colours and smiles" to reflect his personality. His family have asked for any donations to go to Epilepsy Research UK.