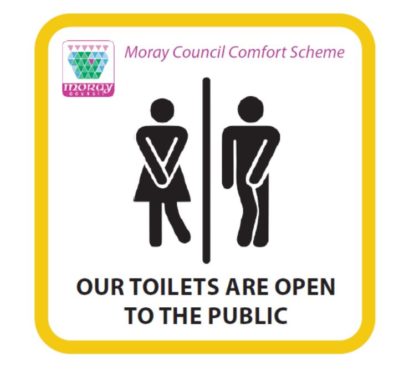 Moray businesses are being urged to sign up for a new scheme that will boost the number of toilets available to the public.
The comfort scheme aims to make clean, safe and accessible facilities available in convenient and popular locations for residents, visitors and tourists.
The council threatened to close all its public toilets this year in order to save money, but the facilities eventually received a 12-month reprieve when the budget was set at the end of February.
However, with the local authority likely to be facing similar financial pressures next year, it is looking for premises such as cafes, pubs, public buildings and hotels to join the comfort scheme now.
They will allow members of the public to use their toilets free of charge during normal opening hours, without the need for them to make a purchase.
Moray Council is working with the national Use Our Loos project, which is sponsored by bleach makers Domestos and the British Toilet Association.
The partnership claims that membership of the scheme can bring additional benefits to businesses.
Participating organisations will receive a welcome pack with cleaning products, samples and discounts as a thank you for supporting the scheme.
By joining the business will be promoted as a member via the Moray Council website, on partner sites and through the national 'Use Our Loos' campaign.
They will also be included on the Great British Public Toilet Map.
To find out more call Yvonne Joss on 01343 563159 or e-mail yvonne.joss@moray.gov.uk