Firefighters battling a wildfire on Speyside that is entering its fourth day believe the blaze could be the largest ever seen in the UK.
Crews from across the north of Scotland have converged on the incident spread between Knockando, Dallas and Dunphail.
Emergency services estimate that flames driven by strong breezes have now spread across about 27 square miles – amid fears it could still be days until it is fully extinguished.
Yesterday, warnings were issued by emergency services and Moray Council to "sightseers" attempting to take photographs of the flames to stay away in order to let emergency services continue their work unobstructed.
The fire service warned the area was not safe to members to the public due to smoke while also highlighting that roads were required to give access to emergency crews.
Precautionary evacuations of some farms have also been done.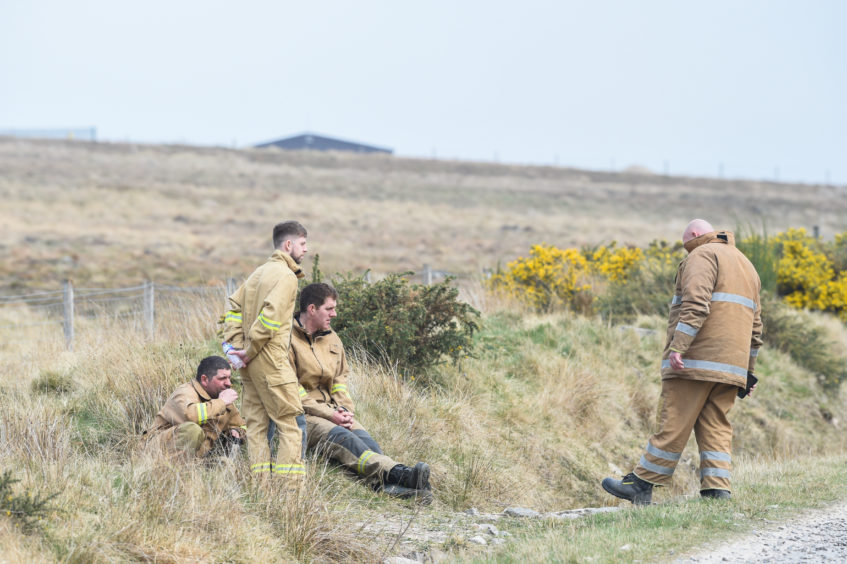 Rab Middlemiss, the fire service's senior officer for the Highlands, said: "The incident is now potentially one of the largest wildfires seen in the UK.
"It has been very challenging due to the fact it is wind-driven and also the terrain, which is moorland, heather and gorse.
"Up to 70 firefighters have been working on it at any one time. It could continue for more days until it is fully extinguished and we are satisfied our communities are safe."
Six hour shift rotations have been set up to give weary firefighters a break from the exhausting work while others maintain efforts in their place.
Four problem spots continue to pose problems as helicopters returned time after time yesterday to douse the moorland with water.
Last night it was also revealed that turbines at the Paul's Hill Wind Farm near Knockando have remarkably avoided serious damage despite being caught up in the height of the blaze.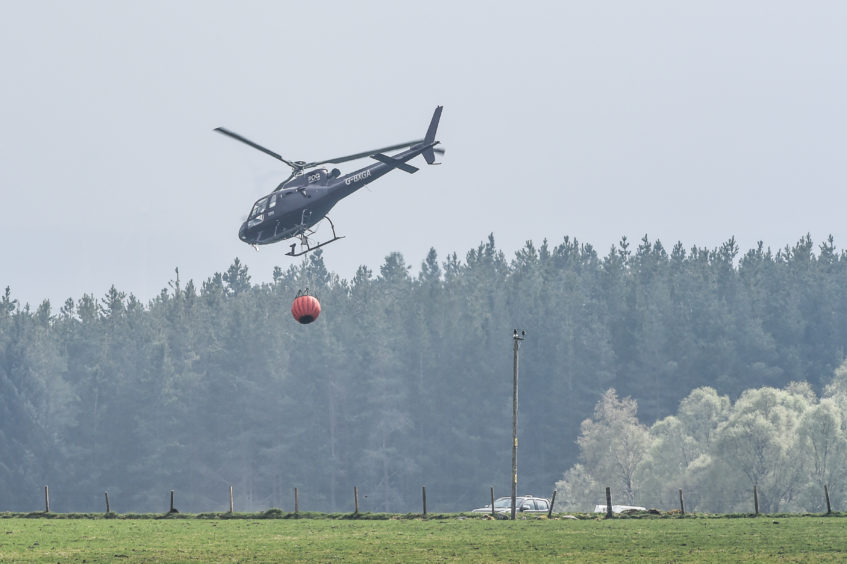 Claire Russell, co-owner of the Ballindalloch Highland Estate which is home to the turbines, paid tribute to help that had come "from far and wide".
She said: "It's mainly gone from us now, we've just got a tiny bit left. Thankfully it has not ruined the turbines because it went right through them.
"The response has just been extraordinary. Estates from far and wide have sent people to help, mainly gamekeepers who know the hills."
Moray MP Douglas Ross said: "There is a clear message from police and the fire service for people to not go to the area to have a look for themselves.  Given the roads in this part of Moray, an influx of people looking at the fires can hamper the efforts of the emergency crews getting the job done."
Speyside Glenlivet councillor Derek Ross added: "There has been a tremendous amount of work done by both full-time and part-time emergency services as well as volunteers. It shows there is fantastic community spirit."