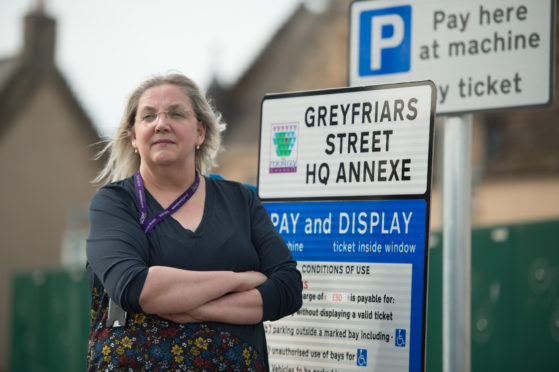 A Moray trade union has vowed to battle local authority plans to introduce car parking charges for staff at two council locations.
Councillors agreed proposals to bring in charges at the budget meeting in February and they are expected to be launched at Greyfriars Street and the Annexe car park over the summer.
Moray Unison has announced that they are "appalled" with this decision and called on the cash-strapped local authority to look after staff more and treat them fairly.
Branch secretary Suzanne Wright vowed to challenge the council on the proposals amid testing times financially for everyone involved.
She said: "Unison will be challenging this decision as it amounts to inequitable treatment of staff.
"The council is imposing this charge on these two car parks penalising staff who work at the HQ.
"The only rationale for this decision is that these are the most financially lucrative sites and the council knows it will face great hostility if it tries to impose it across other areas of the estate, such as schools.
---
>> Keep up to date with the latest news with The P&J newsletter
---
"We know that both the council leader, Graham Leadbitter and the leader of the Tory group on the council, Tim Eagle, have previously stated they do not believe the proposal which allows for councils to levy workplace parking charges is appropriate for Moray, as the area is primarily rural and has a poor public transport infrastructure, yet councillors are happy to impose charges on a specific group of its own employees.
"This is yet another attack on a workforce which is already demoralised and overworked and will do nothing to assuage the feelings of many employees that the council simply does not care."
Car parking at the Annexe and Greyfriars Street had previously been free for all employees but they will be charged £20 a month for a parking permit, beginning in the summer.
A Moray Council spokeswoman insisted that the charges were fair for all employees.
She said: "As agreed by councillors in February, in order to set a balanced budget for 2019/20, parking charges at Greyfriars Street and the Annexe car park are set to be introduced this summer.
"A public consultation is currently under way with responses to be received by May 3.
"Users of these car parks will be able to purchase a parking permit for £20 per month via payroll deduction – reflecting the cheapest monthly parking permits available for council-operated car parks in the area."