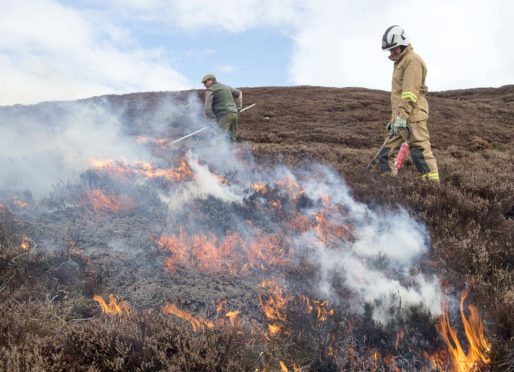 Calls for the increased use of controlled burning to combat wildfires have been made by land managers following a spate across the Moray and Highland regions.
Scores of firefighters were called into action recently as a blaze spanning 10 miles broke out in Moray between Knockando and Dunphail, destroying acres of moorland at Berry Burn wind farm.
More than 80 firefighters worked with estate workers from around the north-east to extinguish the large blaze, which lasted for four days and was described as one of the biggest seen in the UK.
Two helicopters were also scrambled to the scene of the wildfire, with around 50 gamekeepers from as far afield as Grampian, Speyside, Tomatin and Loch Ness bringing in specialist equipment to help extinguish the inferno.
The Scottish Fire and Rescue Service (SFRS) is now considering preventative measures after similar incidents were reported in Skye and Lochaber, with a trial of controlled burning scheduled for next spring on the back of international research in countries such as the USA, Australia and Canada.
The new approach has been welcomed by landowners and estate workers, with the trial to take on similar methods deployed by gamekeepers undertaking muirburn on sporting estates.
Tim Baynes, moorland director of Scottish Land and Estates, said: "There are many misconceptions about muirburn but the fact that Scotland's fire service is now looking to introduce controlled burning next spring shows how important it is to adopt these methods and our members will continue to work closely with SFRS.
"Muirburn is based on sound science and we know from experience that wildfires will usually stop when they reach a managed grouse moor.
"This season we have seen several major wildfires in Scotland but we understand none of them were related to muirburn for grouse management.  Muirburn on grouse moors rarely causes wildfires and actually helps to prevent them."
Scottish Land and Estates has written to the Scottish Government and James Hutton Institute to offer its support for research into the subject and will push for a fire danger rating system to be introduced to better protect those in areas where the likelihood of a fire starting and spreading is high.
Public awareness needed to prevent devastating wildfires says fire chief
Iain Hepburn, head gamekeeper at Dunmaglass Estate, and also a part-time firefighter with the SFRS, has in the past worked with firefighters to share best practice when it comes to tackling wildfires on moorland.
Mr Hepburn said: "Controlled seasonal burning and cutting are effective methods to reduce the risk of damage from wildfires by providing breaks in continuous moorland cover and reducing the fuel load.
"A useful technique, known as back burning, enables the keeper to control a fire by lighting another in a strategically placed position which then burns towards the wildfire and in turn puts out both fires.
"This requires a lot of skill and knowledge and the practices we use can be shared for the benefit of fire crews and communities in rural areas elsewhere."