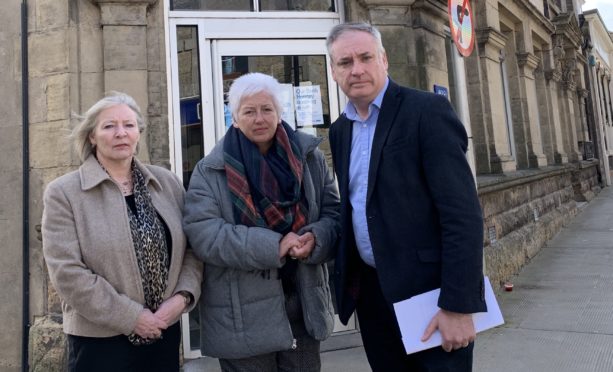 A Moray town will be left with just one permanent bank from July after TSB confirmed its branch will close.
Bosses rejected an 11th-hour plea from members of the Keith community and local politicians who had held out hope they could force a U-turn.
Though TSB officials agreed to a meeting, there was disappointment as they used the opportunity to confirm that the decision was final.
Job fears as TSB announces reduced opening hours across many north branches
Keith will now lose two of its three banks in the summer, with TSB joining Bank of Scotland in shutting up shop.
That will leave the Clydesdale, on Mid Street, as the town's sole banking presence.
Moray MSP Richard Lochhead and Keith and Cullen councillor Theresa Coull were among those who met with TSB's branch distribution director for Scotland, Carol Anderson, for talks over the branch and a plan to reduce opening hours in Forres.
The bank has said the changes are being made because of a reduction in the number of customers banking in person.
In the wake of the meeting, however, Mrs Coull criticised the decision and accused TSB bosses of "abandoning" rural communities.
She said: "The plan to close the Keith branch in July is hugely disappointing for TSB customers and the wider community.
"Many of their customers are not able to use internet banking or to travel to access their services. They need access to their local branch.
"Vulnerable folk and businesses depend on having a local branch in the town and TSB customers shouldn't be put in the position of having to move banks.
"We used to have five banks in Keith and with TSB pulling out we're going to be left with just one.
"This isn't acceptable and the banks shouldn't be allowed to abandon our rural communities at the rate they have."
According to consumer watchdog Which?, Moray is the rural area worst hit by bank closures in Scotland, having lost 15 branches since 2015.
Mr Lochhead hopes that this trend does not continue.
He said: "As we've seen with other bank closures, customers moving online and the changing way in which people choose to do their banking has led to banks taking the decision to close local high street branches.
"There are few places that have felt these closures as hard as we have here in Moray and I know that many of the TSB's customers in Keith will be deeply disappointed to lose their branch in July.
"We cannot end up with a situation where the only branches left locally are in Elgin."
A TSB spokesman said: "We continually review our branch network and as part of the most recent review we have taken the very difficult decision, that as from July, we will close our branch in Keith.
"Three out of every four TSB customers in Keith now use online, mobile or telephone banking to access banking services and around 60% of our customers regularly use other TSB branches.
"Unfortunately, as a result, keeping the branch open is now no longer financially viable."