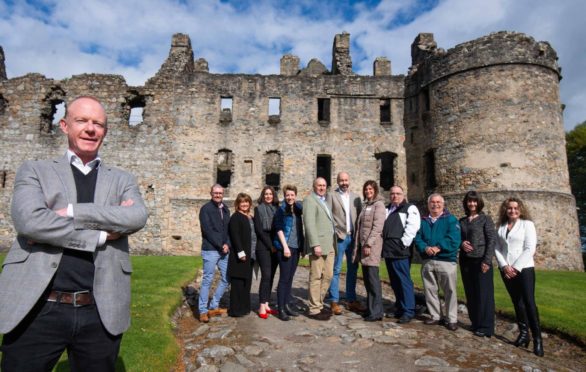 Scotland's national tourist organisation has backed a new campaign to transform Moray into a world-class tourism destination.
VisitScotland supports Moray Speyside Tourism's (MST) Business Improvement District campaign which officially kicked off yesterday.
MST is the only destination marketing organisation that promotes the region worldwide, but it only has a year left of funding.
However, their officials have launched a new tourism business improvement district campaign which they believe will help them create a self-sustainable industry in Moray while hoping to attract double the amount of visitors from across the globe.
Last year, tourism was worth £130million to the local economy, with almost 800,000 people flocking to the region and supporting more than 2,800 jobs.
Now, with plans to get more funding in place and less restrictions to contend with, it is hoped MST can continue to make Moray flourish as an area with huge potential.
Important tourism figures from across the region were at the launch yesterday at the scenic Balvenie Castle in Dufftown.
VisitScotland is keen to see the campaign come to fruition and believes that the loss of MST would be a huge blow to the region.
Jo Robinson, the agency's regional director, said: "Moray Speyside Tourism has done a great job to galvanise industry in this area over the last five years, to represent the region at international trade shows and to leverage investment into the region, so if we no longer have an organisation to do that, the industry faces a big problem.
"How are they meant to promote themselves and put themselves on the map as a great destination to visit and build on all this great work they have achieved?"
Laurie Piper, operations manager for Moray Speyside Tourism, was keen to stress that the TBID was tailored for businesses and was a collaborative effort.
He said: "This is a culmination of three years of hard work and six years of Moray Speyside Tourism being in business and this opportunity that presents itself to Moray tourism businesses today is significant and is the first time in a generation the TBID will offer them the opportunity to secure the future.
"They can plan and can help shape the direction of what we do over the five-year term.
"Businesses have said to us they want more marketing, international and UK, to help with events and festivals, be a single voice and be represented at the national table."
The TBID proposals will be sent to 400 local tourist-related businesses who will then vote to decide whether they want it or not.
They would each pay a levy, depending on how big they are with a cap on fees so that it is not too expensive for anyone.
Most businesses would only have to pay the equivalent of just 75p a day.
Proposal garners support from local businesses
With the TBID officially launched, Moray Speyside Tourism needs to win support from local businesses to move the plan forward.
Initial research carried out by the group, with a sample size of 138 organisations last year, suggested a majority are in favour of the principle of a BID.
That positive support continued yesterday, with various big hitters in the industry throwing their weight behind the campaign.
Kevin Smith, director at the renowned Craigellachie Hotel, believes MST would be a huge loss to the region if it closes at the end of the year.
He said: "This area is incredible and it is amazing what goes on here, but we have a huge potential to unlock, businesses could extend their opening hours, there are opportunities for improved transport, public toilets and campsites that just need a little regeneration, so something like this is hugely needed."
Steph Murray, general manager of Downs Hotel in Aberlour, believes the initiative would bring about more investment if it goes ahead.
She said: "A Tourism Business Improvement District would lead to more investment in our increasingly important tourism industry, but it would also allow local businesses to decide what our money should be spent on.
"This might be more advertising in key markets, building more walking and cycling trails or producing maps and guides to the region."
Barton Hill Travel promotes trips to Europe from all over the world and managing director David Lyne has noticed an increase in business since MST took over.
He said: "Until recently, this part of Scotland had been unpromoted and therefore overlooked. After attending an event with Moray Speyside Tourism in 2017, we have been actively promoting and selling the region to clients around the world, notably in the US and Germany.
"Working with the travel trade is by far the best and quickest route to success in attracting overseas tourists, but this effort needs to be ongoing in order to compete against destinations all over the world."