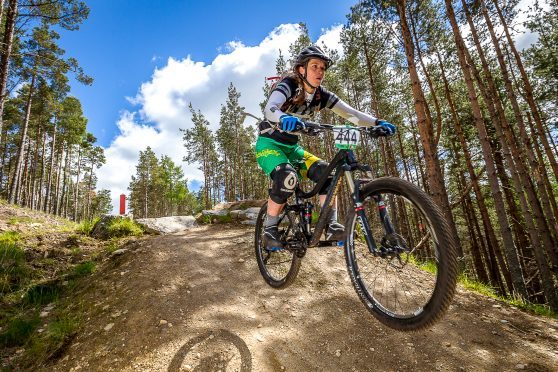 The Crown Estate is seeking forward-thinking entrepreneurs to help boost business at a mountain biking centre in the heart of the Cairngorms.
The organisation has issued an appeal for a partner to develop and manage the Mountain Bike Hub and Cafe on the Glenlivet Estate near Tomintoul.
Estate agent Savills has advertised the position and invited interested parties to come forward with "creative ideas, business plans and proposals".
Jamie Watson, from the Fochabers branch, said: "This venture offers huge potential for those who are passionate about cycling and developing a business in the great outdoors."
Head of property at Crown Estate Scotland, Andy Wells, added: "This site offers an exciting opportunity for someone keen to grow and develop a business in one of the most scenic locations in Scotland.
"The surrounding area is becoming increasingly popular as a mountain bike destination and already has a wide variety of well-known visitor attractions.
"We are seeking an enterprising business partner to work closely with us to help bring more visitors to the Glenlivet Estate and play a key role in the economic development of the area."
Trails in and around the Glenlivet Estate attracted about 50,000 visitors between the time they were opened in 2013 and last year.
The 25-mile mountain biking track includes a mixture of downhill runs and uphill climbs, offering options for visitors of all abilities.
The cafe can cater for up to 40 diners and comprises a modern wood burning stove, indoor and outdoor seating, a spacious kitchen and toilet facilities, as well as parking for up to 30 cars, mini-buses and campervans.
Turnover for the existing operation averages between £70,000 – £80,000 per year, including cafe sales and car parking revenue.
A new skills and coaching area has been created to attract the best in the industry to the area and help develop the skills of local and visiting riders.
Savills says that any applicant could take advantage of the "potential to develop ancillary businesses".
Mr Watson added: "The cafe could also be marketed to walkers and local residents, and offers potential for other uses like private functions such as children's biking parties."
People can learn more about the centre at www.glenlivetestate.co.uk/outdoor-activities/mountain-biking