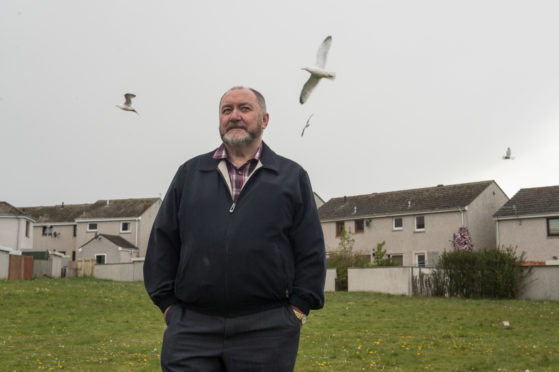 Action will begin within days in an effort to tackle the winged menaces who have terrorised Elgin residents for years.
Contractors are scouring the rooftops of problem areas in search of gull nests before removing eggs and using lasers to scare away adults.
The gulls have caused widespread fear and alarm in some parts of the town by dive-bombing locals for food and interrupting their sleep at nights with incessant squawking.
Their behaviour had gotten so bad around schools that children were not allowed to eat their snacks outside at New Elgin Primary and Greenwards due to the feathered foes attacking kids and stealing their food.
That has led to Elgin councillors dipping into the Common Good fund to try and curb this.
And they have now appointed a contractor to head up a pilot scheme in key areas of the town.
The effort will begin next week, with workmen having already visited residential areas in New Elgin, Kingsmills and Lesmurdie to make initial assessments.
The £11,000 pilot project will cover 1,498 properties and some of biggest gull danger areas, including New Elgin cemetery.
Elgin City South councillor John Divers believes it's clear something had to be done as the town's bird problem is out of control.
He said: "Initially we did look at oiling the eggs but have now settling on egg and nest removal and the use of lasers. This will continue for three months.
"To begin with, the contractors are going around to identify what is there and process it and then they will start dealing with the nests.
"It is a difficult situation and it needs to be dealt with as swiftly as possible.
"In other areas there has been a 7% increase in birds year-on-year, so if we don't act now, it'll become a bigger problem."
Eggs and nests will be the target of the project because it is illegal to cull gulls once they are born.
Using laser pointers to move the birds away has already been used with some success on Elgin High Street in a project funded by Elgin BID.
But residents have been warned not to get their hopes up about an instant solution, as it could take a few years before they see a positive effect.
Mr Divers added: "This initial scheme will last three months and then we will assess the situation and see if we can progress it on and take it forward to cover the rest of Elgin.
"We will see if businesses or people would like to contribute something towards that and look at other means of funding it, because the common good fund would not stretch that far."