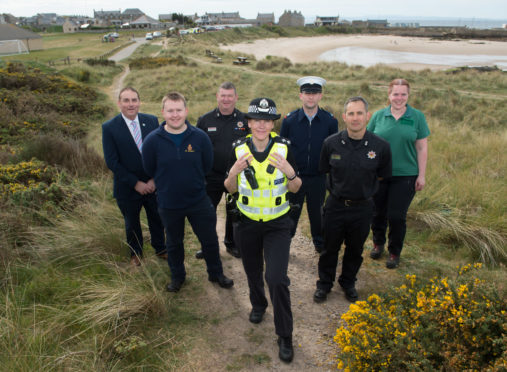 Tombstoning, rural fires and entering the sea at dangerous times will be the focus of a crackdown on risky behaviour in Moray this summer.
Coastal communities around the region will be subject to extra police patrols by vehicle, bicycle and on foot.
The likes of the RAF Police, coastguards and council officials will also be keeping an eye on areas from Burghead to Kingston.
One particular focus will the pastime of tombstoning – the daredevil feat of leaping from harbour walls into the sea – which for authorities has been worryingly popular in areas such as Hopeman and Portknockie.
The Coastguard has condemned the practice, which has claimed 20 lives across the UK during the past decade.
And, with call-outs already increasing as warmed weather moves in, the emergency services will be working to educate those who risk their lives.
The effort is part of a wider campaign that also aims to tackle anti-social behaviour, including speeding, excessive alcohol consumption and the starting of fires.
That latter issue is particularly important as people head out to enjoy the outdoors, and barbecues, in a region that has been repeatedly hit by wildfires.
Gareth Luce, fire service watch manager at Elgin and Lossiemouth, hopes to educate the public on the dangers they can expose themselves and others to during the summer.
He said: "Water safety is important and we are going to speak to youngsters who go jumping off the harbour walls.
"We will show them the equipment we use to go into that water compared to what they have.
"Fire safety is also important, given the recent wildfires we have experienced, so we will be making people aware of the consequences of carelessly disposing of barbecues or cigarettes."
Kerry Rigg, local policing inspector, Lossiemouth and Fochabers, wants to ensure locals feel safe when the lighter nights brings out more people to enjoy the good weather.
She said: "The Lossiemouth area, along with the nearby coastal towns and villages are fantastic places to live, work and visit and we want our communities and visitors to be able to feel safe while doing so."
Colin Wood, senior coastguard operations manager for the Moray sector, also hopes to encourage people to have fun outdoors safely.
He said: "We want to deliver education to people about the dangers of being beside the water.
"We want to encourage them to get down to beach and rivers and to enjoy themselves but also to beware of the dangers."