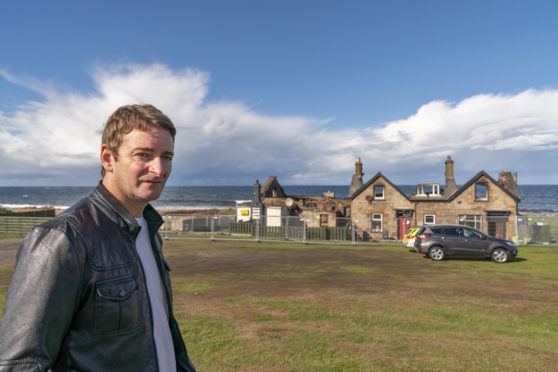 Demolition crews will move in on a historic Moray bar later this week to knock down the building that was destroyed by a fire last year.
The Beach Bar in Lossiemouth was reduced to an empty shell following a blaze in September that ripped through the structure.
In the months that followed the fire there were hopes that the building, which began life as the town's public baths in 1875, could be preserved.
However, now the bar's owner has revealed that the walls will need to be torn down in order for it to rise again from the cinders.
Graham Fleming, who has worked in the bar for 30 years, said it would be a sad day to see the business flattened. Work will begin after the demolition on a new Beach Bar on the same site.
Mr Fleming said: "There are a lot of memories for me in it and for a lot of local people who came to drink there.
"It'll be sad to see it go but it has to come to an end to make a new beginning.
"We've spoken to the demolition team to retain as much of the old stone as we can so that we can use it when we get round to the new building – there will be a few changes but we pretty much want it to remain like the old place."
Demolition of the shell of the bar is expected to begin before the end of the week.
Owner of Moray bar that was burnt to the ground hopes it can be rebuilt
It is hoped that the new premises will be serving its first drinks in April next year.
The Beach Bar was popular with locals as well as visiting personnel to RAF Lossiemouth and was just months away from a £30,000 upgrade when the fire hit.
Luke Wood, who was 20 at the time, was the only person in the building at the time in an adjoining house. He escaped the blaze unhurt after neighbours raised the alarm.
Heldon and Laich councillor James Allan said: "It's really good to see it's coming back.
"Other businesses in the town have told me it's quieter since the fire so hopefully it will bring people back.
Owner of Moray bar destroyed in fire is 'ready to rock' with plans to reopen it
"It's a prime spot, so other people might have sold up, but I know Graham is really committed to Lossiemouth.
"His heart is in it."