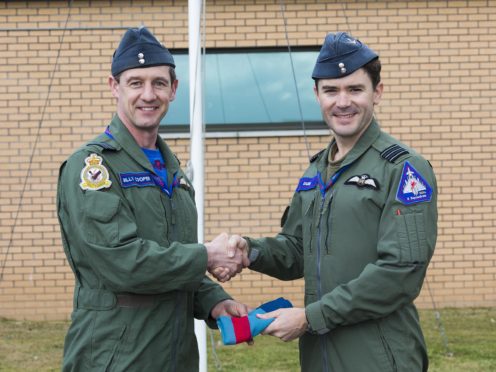 An airman who honed his skills with a storied fighter squadron has now taken command of the RAF Lossiemouth-based fleet.
It was in 2005 that Wing Commander Matthew D'Aubynhad undertook his first tour as a pilot, with the No. 6 Squadron, which dates back to 1914 and was based at RAF Coltishall in Norfolk until it reformed in Moray in 2010.
At that time he became the final person to fly an ab-initio Jaguar, but he will now take charge of a fleet of Typhoon fighter jets which last year took part in missile strikes against Syria during the Syrian Civil War.
Wg Cdr D'Aubyn later moved abroad to serve in Germany, Italy and Qatar and takes over from predecessor Billy Cooper.
The airman said he was arriving at Lossiemouth during an "exciting time" for the coastal airfield.
He said: "I was extremely lucky to have my first tour with 6 Squadron as the last ab-initio Jaguar pilot.
"It was a rollercoaster ride and I'm delighted to have the opportunity to be a part of the Squadron again, since I already have a genuine affiliation with it.
"It is an honour and a privilege to lead a Squadron with such an illustrious history and, from what I have seen so far, the spirit and commitment of the team is undiminished.
"The forthcoming months will be challenging and exciting as we depart very soon to Sweden on Exercise Arctic Challenge to train with our Nato partners, and then prepare for operational deployments."
He converted to flying Typhoon jets following the retirement of the Jaguar fleet in 2007 and was part of the craft's first deployment over Libya in support of Operation Ellamy in 2011.