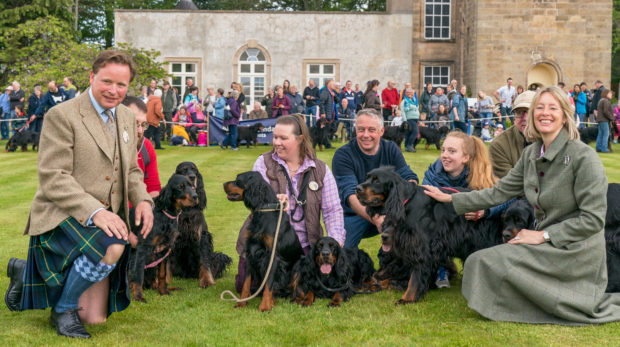 The largest ever pack of Gordon setters from a declining breed have gathered at a Speyside event to raise awareness of their plight.
The breed was developed at Gordon Castle in Fochabers during the late 18th century by Alexander Gordon, the 4th Duke of Gordon, as a traditional hunting dog.
However, figures gathered by the Kennel Club UK have revealed there has been a 60% drop in the amount of breeding registration of the distinctive animals in Scotland.
Yesterday, a parade of more than 120 of the creatures trooped around the arena at the ninth Gordon Castle Highland Games to raise awareness of the drop.
Diane Parry, a committee member of the Gordon Setter Club of Scotland, took part with her dogs Holly and Mack.
She said: "It's probably the largest gathering of them there's ever been. We had 80 registered in advance but more and more have kept coming up.
"The issue is that people are going for designer dogs like Labradoodles and Jackadoodles these days. We don't want to see unscrupulous people getting involved in the breeding."
The canine parade was just one of the attractions at the annual traditional extravaganza that drew more than 10,000 people to the Moray village – with organisers believing it could have the busiest ever.
Last night, estate owner Angus Gordon Lennox praised the variety of the games for pulling in large crowds, but pledged to review parking arrangements following long delays getting into the event.
Dog lovers were out in force among the huge crowds at the celebrations, which began on Friday evening with folk band Rura headlining the first Gig at the Games alongside local favourites.
Meanwhile, records tumbled in the heavies competition with Vlad Tulecek, from the Czech Republic, beating the competition to take top honours while setting a new all-time best for the arena of 46ft in the 22lb stone. Lukasz Wenta, from East Kilbride beat his own record in the 16lb shot event with a throw of 58ft 1in.
The skirl of pipes and the sight of highland dancers competing on stage added to the atmosphere throughout the afternoon.
Mr Lennox said: "We had so many people coming who wanted their Gordon Setter to be part of their parade, people came from Wales and the south of England specially for it.
"I think what brings people to our games is that there's so much variety, probably more so than others. We really try to make it for the whole family."