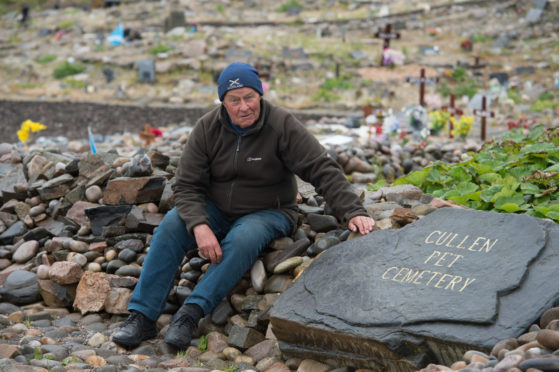 The future of a beloved Moray pet cemetery has been thrown into doubt amid threats the volunteer who runs it could be routinely hit with fees to cover government inspections.
Stephen Findlay, 81, has volunteered his time to offer people's companions a peaceful resting place near Cullen beach for more than 25 years, never once asking for a penny in return.
But the picturesque spot is now under threat as a result of recently-passed EU regulations which dictate that inspections are "clearly necessary" to prevent the outbreak of disease, and that burial sites should foot the bill for the visits.
UK Government quango, the Animal and Plant Health Agency (APHA), has now sent Mr Findlay a bill for running an "animal waste disposal business".
The organisation claims that it needs to carry out routine visits to the pet cemetery, which covers about an acre of land.
With the charge being £100 each time, locals fear that the pensioner could be forced to abandon his work.
But Mr Findlay last night vowed to "battle" to keep going, saying he would not stop unless "forced".
He said: "I've been burying animals here for more than 25 years and this is the first time I've received a letter like this.
"Hopefully we will win our battle with them, I just have to wait and see what happens.
"But this will not stop me, I will keep burying pets here until they have to forcibly stop me."
The site began when Mr Findlay laid the local doctor's dog to rest along the shore in 1992.
The retired binman recently interred a cat from Macduff in a woven basket, and is kept busy most days by people who want to give their pets a fitting final home.
Although he most commonly buries household animals, Mr Findlay has taken it upon himself to inter seals, dolphins and even a porbeagle shark which washed up on the bay.
A police officer even once drove from Birmingham to Moray to ensure her pet cat could be buried overlooking the sea.
Keith and Cullen councillor, Donald Gatt, confirmed that Moray Council was powerless to assist Mr Findlay in his current predicament but urged the APHA to consider a rethink.
He said: "This seems like a small thing to clamp down on, so maybe the APHA might show a bit of compassion and waive the fee.
"The cemetery has been there for a substantial period of time with no environmental problems and, for a small amount of money, they are stomping on the wee guy."
But an APHA spokesman has stressed that inspections are required under EU rules, and that the introduction of fees to cover such visits was widely backed last year.
He said: "Under EU regulations, all premises which carry out burial of pet animals require inspections and registration by the APHA.
"These are clearly necessary to ensure animals are buried properly and to minimise the risk of a potential animal disease outbreaks or risk to the environment.
"Fees help to cover the costs of these inspections and were introduced last year following a consultation in which the vast majority of respondents supported this charge."
This is not the first time the pet cemetery has been under threat.
In 2015, landowners Seafield Estates accused Mr Findlay of encroaching the agreed boundaries of the site and warned him against further expansion.
But he maintained that only decorative stonework exceeded the borders, and said he "couldn't understand" why the landowners had raised such a dispute.
An online petition to support the cemetery garnered about 1,500 backers, and Seafield Estates ultimately pledged to "ensure that the future of the pet cemetery is safeguarded".