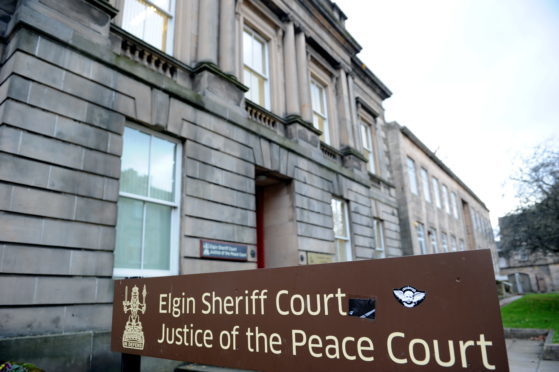 A serial thief who attempted to break into an Elgin property on New Year's Day completely failed to notice the owner was filming him the entire time.
Daniel Kiryjczuk turned to crime after losing his job as a pig farmer but did so in spectacularly bungling fashion, being repeatedly caught in the act.
The 33-year-old also left DNA evidence at the scene of one crime as he targeted homes and garages in a series of ill-advised meat thefts.
Kiryjczuk, of Brig Wynd in Forres, pled guilty to five separate offences during an appearance at Elgin Sheriff Court yesterday.
The earliest occurred in January 2016, with the court hearing a woman had returned to her home on the town's Linkwood Road to find her garage door forced open.
Depute Fiscal Alex Swain said the woman had looked inside to discover her freezer open and a significant amount of meat missing.
Kiryjczuk's soon became the key suspect as his fingerprints were found on two cigarette butts he'd unwisely discarded in the garage as he pilfered the food.
The depute fiscal also described how Kiryjczuk committed two crimes on New Year's Day, 2019, with witnesses catching him in the act each time.
She said: "A resident of North Guildry Street looked out of her window at 9.45am and saw the accused smashing the back window of a car with metal bar.
"He then leaned in and removed several bags from the back seat before fleeing.
"Then, shortly before midday, a resident in North College Street become aware of the accused in his garden.
"He saw him pick up a crowbar and attempt to pry open his kitchen window and then living room window.
"The resident watched him do this and recorded it on his mobile phone before contacting the police."
In a separate incident in April, the former pig farmer was discovered outside a property on Springfield Road after the house owner saw torchlight and heard hushed voices coming from their shed.
When officers apprehended him, and another man, they found the broken lock and a tin of sardines in his pocket.
Kiryjczuk also stole a £280 bike from a landing outside a flat in Northgate in Elgin.
Defence solicitor Grant Dalglish told the town's court his client committed the crimes in 2019 after losing his job as a pig farmer.
Mr Dalglish said: "For a year-and-half he was in steady employment but once he lost that job it was the start of a slippery slope for him.
"He was taking alcohol and illicit substances and these actions were carried out under the influence.
"He would like to apologise to the complainers. He committed the theft in 2016 as he was concerned about how to feed his family."
Kiryjczuk pled guilty to theft, theft from a motor vehicle, attempted housebreaking with intent to steal and theft by opening a lockfast place.
Sheriff Olga Pasportnikov jailed him for 40 days and ordered him to carry out 150 hours of community service.
She also made him subject to a 121-day restriction of liberty order following his release.