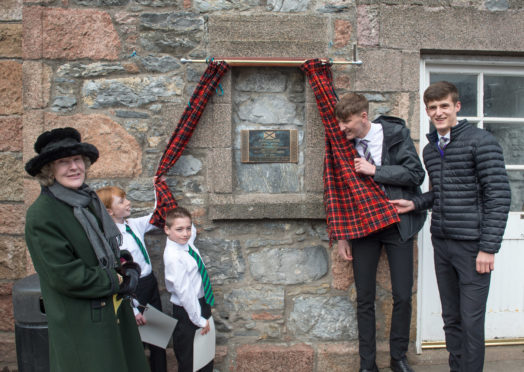 A celebrated Speyside poet who wrote about the wartime loss and suffering of her community has been remembered in her hometown.
Mary Symon was born in and spent most of her life in Dufftown, beginning her writing career when she was just 11 with a piece about the local parish church.
Her writings about the sacrifice and loss felt in the town during the First World War while soldiers fought overseas are some of the most significant in Scotland.
Last night, a plaque was unveiled in her honour at the clock tower in Dufftown – where her father and grandfather once ran a saddlers business.
The memorial was the final to be unveiled as part of Scotland's trail of war poets, which has been funded by Historic Environment Scotland.
Neil McLennan, chairman of the Scottish War Poet's Corner committee, inspired the project to ensure Scots wartime writers, including Mrs Symon, are not forgotten.
He said: "This ensures her words are shared publically for many to see in the years to come. She was not only a fine poet but one who captured the hidden loss in rural communities during the First World War."
Students from Mortlach Primary School read some of Mrs Symon's most poignant works to a crowd gathered in the town square last night before Ian Purves sung a soulful version of her poem The Soldiers' Cairn.
After the First World War, the poet moved to St Andrews University and graduated in 1920 while her writing developed.
However, it was not until 1933 that her work became well known when her Deveron Days book was published, which including poems that dealt with the aftermath of the conflict on a rural community.
The book sold out within a week and was reprinted, which again sold out.
Mrs Symon died in Dufftown in 1938, aged 74.
Clare Russell, the Lord Lieutenant of Banffshire, described the unveiling of a plaque to remember the celebrated poet as a "special day" for the community.
She said: "It's wonderful so many people turned out to remember her. I hope she was looking down from above to see it all. She isn't just an important figure in local history but also in national history so it's important she's recognised here."