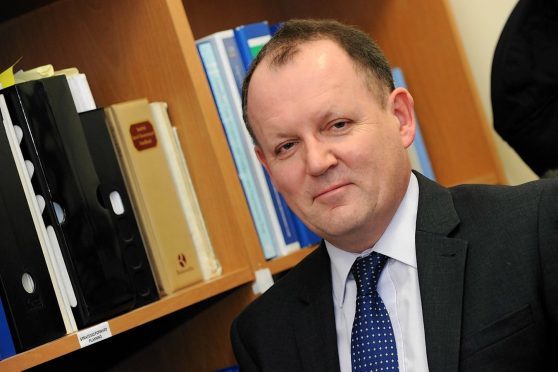 Moray Council's chief executive has warned that "bold and courageous" decisions will need to be taken if the authority is to stave off bankruptcy.
Roddy Burns said tough decisions would have to be made and indicated that a fresh round of cuts could not be ruled out.
It's feared that delays in overhauling education services in particular may undermine some of the cost-saving measures previously laid out.
Cash reserves currently propping up budgets are projected to run out within the next year, amid estimates a minimum £10 million worth of further savings are needed.
Consultants have been hired to run an "improvement and modernisation programme" within the council to find as much of the money as possible by reviewing how current services and buildings are run.
Included in the proposals are outlines for the future of Moray's school estate, which has already had six sites classed as "unsustainable" as part of a separate internal assessment – though no decision has yet been taken.
The council backed away from a review in 2014 that suggested shutting schools following a protest rally involving hundreds of campaigners.
Yesterday Moray Council's chief executive Roddy Burns warned that issues included in the current project would require action now.
He said: "These words may seem trite, but I really mean them. I think it's time to be bold and courageous on some of these issues.
"We were at a presentation in the Scottish Parliament by an education director from a different authority, who have had similar issues to Moray, and his words were that it takes courage and bravery to take forward some of these decisions."
Yesterday there were also further warnings that delays in drawing up plans to transform education and children's services are at risk causing the scheme to come up short.
Estimated savings from each of the areas, which also include leisure services, customer service, property and income from car parks and harbours, are due to be prepared by the end of the month.
But Mr Burns warned that hold-ups in developing proposals could force cuts to be found elsewhere.
He said: "There has to be some financial benefit.
"The key is whether it will be sufficient and the risk is that it won't be.
"I'm keen that by the end of this month we will have as strong an indication as possible of what is likely to come from this.
"If it doesn't then it has to come from the revenue budget. That's how vital it is.
"That reinforces the importance of the education and children's service and their ability to engage with this process to achieve the change and savings necessary.
"The council is at a critical point."
It is understood issues recruiting staff to the council's education department have held up progress developing plans.
Areas being examined as part of the review include reviewing school transport, examining the future of educational buildings and more efficient children's care services.
Denise Whitworth, the council's director of corporate services, said the project had struggled to gather momentum in children's services since it was commissioned in December last year.
Former council leader George Alexander, who is now group leader of an alliance of independent members, said: "Every delay in education has an effect on the children of the time.
"I've sat in the chambers for seven years, which is the life of a child in primary school.
"It's depressing we're still at the stage where things are a huge risk because of delays."