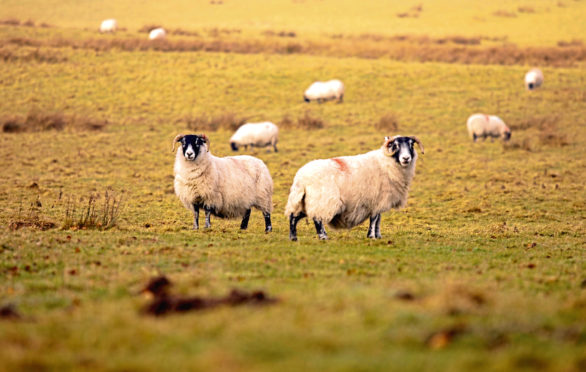 Three sheep were killed after an alleged incident of sheep-worrying at a farm in the Dunphail area of Forres.
A 32-year-old man and 30-year-old woman have been charged in relation to the incident, which took place on April 27, and have been reported to the procurator fiscal.
Sheep-worrying incidents are becoming more prevalent in the north-east of Scotland, with pet owners being urged to keep their animals under control when close to fields that contain animals.
Buckie councillor Tim Eagle is a farmer himself and said he was saddened to hear about the deaths of three sheep.
He said: "Many farmers are deeply proud and committed to their flocks and this can impact not just on the finances of the business but on the farmers themselves.
"I myself keep sheep and despite having over 100, many of them I will know by a nickname and will know well the family lines in my flock.
---
>> Keep up to date with the latest news with The P&J newsletter
---
"To lose ewes or lambs would be torturous to me.
"During the summer it is common for sheep to be on grazings away from the farm and so I urge anyone who lives in rural areas to keep an eye out for activity in fields."
Mr Eagle said it was not only sheep-worrying that was a concern but other aspects of rural crime too.
"If you see a vehicle you don't recognise or sheep being rounded up at odd times then do please let the farmer know or contact the police," he said.
PC Jeanette Thompson said: "We would like to remind dog owners and people walking dogs in the countryside to keep their animals under control.
"All dogs should be kept on a lead when being walked next to livestock.
"Sheep and lambs are particularly vulnerable at this time of year and this incident could have been avoided had the owners had their dog on a lead.
"Even those animals not directly attacked can suffer stress causing miscarriage and death.
"It does not matter how trained you think your dog is it only takes a moment for it to enter a field which has consequences for the farmer, owner and ultimately the dog."
PC Thompson also warned dog owners that farmers are legally entitled to protect their livestock which can result in the destruction of a dog by shooting it.
"While no farmer wishes to resort to this option it is an option that is available to them," she said.
"It is an outcome that can quite easily be avoided if owners ensure that they have proper control of their dogs."