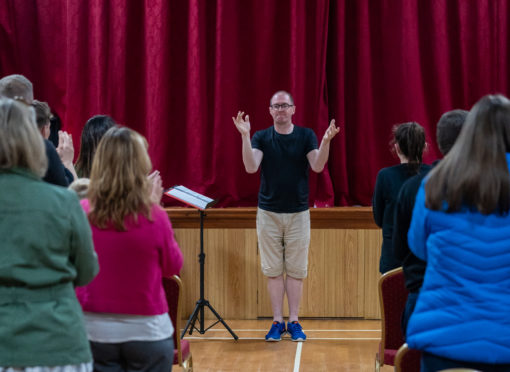 While simply singing a song might be more traditional, some Lossiemouth locals were given the chance to sign some tunes too at a showcase event last night.
They were taught how to perform the useful skill by Paul Whittaker OBE, who led the group at St James Church in renditions of S Club 7 songs and Bridge over Troubled Water.
The event was the first of two being held in the coastal town by Moray British Sign Languages services (BSL).
Mr Whittaker has been deaf all his life but that has not stopped him learning to play the piano, organ and graduate with a music degree from Oxford.
Now, he spends his time travelling the length and breadth of the UK promoting sign language.
It is the fifth time he has visited Lossiemouth, where he also paid a visit to three local schools as part of Moray Council's commitment to the Scottish Government's British Sign Language plan.
He has noticed the popularity of these events grow.
Mr Whittaker said: "Music is a universal language and it's great coming back here every year and seeing people have taken my advice on board and have developed their skills.
"I also encourage beginners to get involved and come and give it a try.
"Signing songs makes you think about the lyrics as before you don't stop to think. Here you have to understand the meaning of it and add emotion and volume."
A minibus full of students from Keith travelled to watch the session as well as some of the regular attendees, including some people from Skye.
Instead of racing through lots of songs, Mr Whittaker tends to focus on only a few in a bid to make the audience really understand what they are doing.
He has links to the north-east, with his sister Mary, the only deaf minister in the Church of Scotland, leading the St John's Church for Deaf People in Aberdeen.
Mr Whittaker also believes the importance of sign language should not be looked down upon and that more should be done to promote it.
He said: "It is a vitally important life skill because maybe one in eight people suffer hearing loss and when you are older you are also likely to be affected.
"Even just having basic signing skills, would be such a useful thing to have when communicating."
He will be leading another signing song session today at Forty Four in Lossiemouth from 4.30pm. Tickets can be purchased from the shop.
Mr Whittaker also led a two day seminar where interpreters and education staff improved their skills.
Moray Council made a small contribution but the whole weekend was organised by the Moray BSL Services.