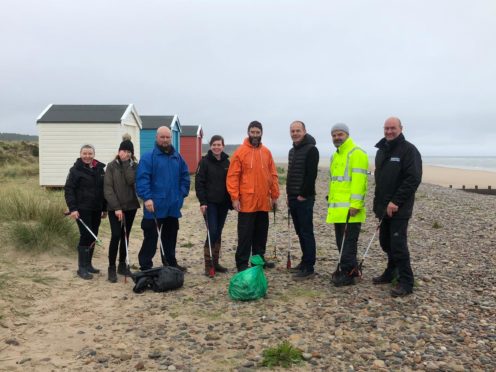 Employees from a whisky giant did their bit for the Moray community this week by helping to clean up a beach.
Chivas Brothers workers took to Findhorn Beach on Thursday morning to remove plastic and rubbish from the scenic location.
They teamed up with the Keep Scotland Beautiful campaign to get rid of the rubbish.
Any left-over plastic they found is being recycled into a 13-person punt by charity partner Hubbub, which will be donated to Keep Scotland Beautiful to allow the charity to increase its efforts to remove plastic from Scotland's waterways.
The boat will also be used to host events and community initiatives to inspire others to consider their own plastic usage.
The clean-up also contributed to Pernod Ricard's, the company who owns Chivas Brothers, national Responsib'All Day, where more than 1000 UK colleagues supported projects such as this.
Jean Christophe Coutures, chief executive and chairman of Chivas Brothers, said: "Responsib'All Day is a demonstration of our commitment to having a positive impact on the places we call home and inspire others to take positive action.
"Not only are we cleaning rivers, seas and community spaces across Scotland and in London, but by turning that waste into a boat which can be used to clean Scotland's waterways, we can further future-proof the beautiful home of scotch."