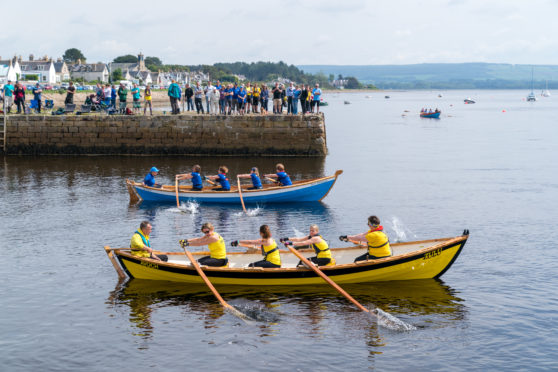 A Moray regatta made a splash on Saturday with 10 coastal rowing teams taking part, despite weather warnings.
Organised by the Findhorn Coastal Rowing Club (FCRC), the event was held this month for the first time to take advantage of the summer conditions, after last year's September race had to be cancelled halfway through because of the wind and rain.
It turned into a successful day, with about 250 people enjoying the sun and the numerous competitive races that took place.
Clubs from as far afield as Ullapool travelled to compete at the bay.
Ruth Boardman, FCRC events co-ordinator, said the day was very well-attended, despite the weather warnings.
She said: "It was a lovely sunny day which makes a huge difference when we were rowing and the whole thing brought a great atmosphere.
"We even had people who were just in Findhorn for a day out and did not know the regatta was taking place who stayed and enjoyed some racing.
"Coastal rowing is becoming so popular nowadays with clubs popping up everywhere and hopefully we were able to attract some new members to join as we are all getting on a bit, with no younger members."
The regatta consisted of numerous sprinting and long-distance races, with Golspie Coastal Rowing Club crowned overall winners.
The Spirit of Joppa award, which recognises the team that best displays the spirit of coastal rowing, was given to a team from Strathpeffer.
The achievement is dedicated to the late Frank Whyte, a local boat builder who helped build the host's skiff Joppa.
Ms Boardman and other members of the club are currently in training to take part in the Skiffie Worlds coastal rowing competition, which is taking place in Stranraer in July, with teams from across the world heading to Scotland.
She said: "The Skiffie Worlds is like a big regatta with squads from around the world there and since it is close by, we thought we might as well make an effort to go this year.
"We are also continuing to hold social and come and try rowing events for anyone who fancies giving it a shot."