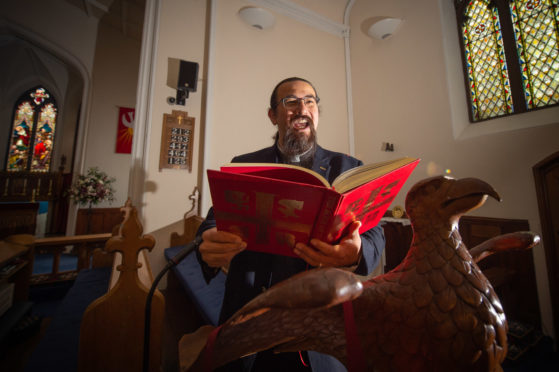 A Moray congregation has finally found a new minister after a nine-month search.
Rev Tembu N Rongong has been installed as priest-in-charge at Holy Trinity Church in Elgin and St Margaret's Church in Lossiemouth.
The 42-year-old is already settling in, and said he was looking forward to getting to know somewhere "completely new".
Born in Kalimpong, North India, Rev Rongong moved to Edinburgh when he was four and studied at the universities of St Andrews and Aberdeen.
A keen hill walker and chef, Rev Rongong decided it was time for a new challenge after spending 10 years as Rector of St Philip's and St James' Churches in Edinburgh.
He said: "When the vacancy came up in Moray it really felt like the right place at the right time for me and my family.
"I had spent 10 years in Edinburgh and previously done some youth work with Mark Strange who used to be in charge up here.
"This is a completely new place for me and it is quite exciting to get on with the job."
Rev Rongong arrived two weeks ago and is already getting to know his congregation and is looking forward to engaging with the Moray community.
From the age of 14, he knew he wanted to join the church after discovering he enjoyed services in Edinburgh.
He began volunteering in Christian youth work, helping people with addiction, but felt there was a boundary where he could not talk to them about God and faith.
He said: "I am looking forward to becoming part of the community here and one of the wonderful things about the Holy Trinity Church is that it is open each and every day so that people can drop in, light a candle and pray.
"I've also done a lot of youth work so I want to work with the local young people.
"Of course, I would also like to explore this part of Scotland as well and me and my family are keen hillwalkers so it would be good to climb a few Munros."