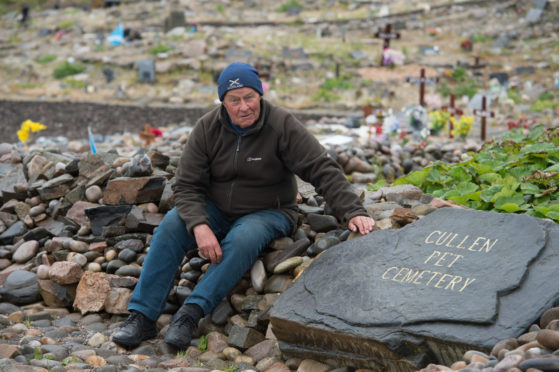 A Moray pet cemetery will be forced to pay to be inspected and regulated by a Scottish Government organisation despite appeals from a local MP.
The Cullen burial site for animal companions has been run for more than 20 years by local volunteer Stephen Findlay who has dedicated his retirement to its upkeep.
However, he received a bill from the Animal and Plant Health Agency (APHA) declaring that he would have to pay for routine inspections due to running an "animal waste disposal business."
Fears over future of beloved Cullen Pet Cemetery as it is hit by inspection fees
These were introduced as a result of recently-passed EU regulations which dictate that inspections are "clearly necessary" to prevent the outbreak of disease, and that the owners of burial sites should foot the bill for the visits.
Moray MP Douglas Ross was contacted by concerned local citizens who feared that this would lead to the cemetery shutting down completely, because Mr Findlay cannot afford to pay the routine fees.
However, after speaking to the Scottish Government, Mr Ross confirmed that no pet cemetery was exempt from the law.
He said: "We are all aware of the excellent service Stephen provides to Cullen and the wider community by running the pet cemetery at Cullen free of charge, something he has done for over 20 years.
"This cemetery is well used by people from near and far to bury their family pets.
---
>> Keep up to date with the latest news with The P&J newsletter
---
"I know there are concerns that the imposition of charges and a licencing structure would eventually mean that the well-used facility may have to close.
"I contacted staff at APHA seeking clarification on this matter and also wrote to the Scottish Government seeking their view.
"In their response, APHA advised that all such facilities had now to be inspected and licensed and there were no exemptions.
"As I understand that this inspection has not yet been carried out, I will be keeping a close eye on developments and see what further support or action I can take to assist Stephen with his much respected and appreciated community work."
Mr Findlay has insisted that he will not stop burying animals on the land.
Keith and Cullen councillor Donald Gatt hoped for a peaceful resolution to the whole issue.
He said: "From an environmental point of view, cemeteries do need to be looked after, but hopefully something can be done for him.
"The community could pull together to support him or maybe because it is such a small thing APHA could waive the fee."