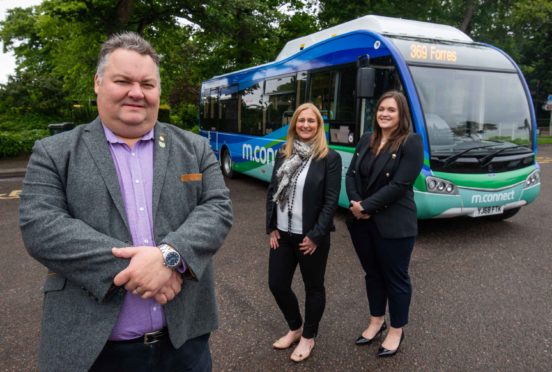 A pioneering electric bus service has been launched in Moray to connect rural communities by public transport for the first time in seven years.
The route between Aberlour and Forres is believed to be the only rural service in Scotland to be served by the green technology.
And countries across Europe are said to be closely watching the success of the pilot scheme as they look to roll out similar vehicles.
A £127,000 bus, funded by Hitrans with support from the Scottish Government and the EU, will initially operate one return journey a day through the villages of Rafford, Knockando, Archiestown and Craigellachie.
Moray Council will run the vehicle to Forres before 9am and a return journey after 5pm to suit commuters and hopes to add to the timetable before the end of the year.
Council leader Graham Leadbitter said: "We've been able to take advantage of the grants made available for low carbon initiatives.
"Electric buses are efficient and cheap to run. The expectation is that it will only cost an overnight charge to run each journey, which is about £10.
"For a vehicle of this size that really is fantastic efficiency."
Tests have already been run on the vehicle, including during snowy conditions in winter, to ensure the bus is capable of covering the rural route.
Further evaluations will be undertaken now the route is in operation before a decision is taken about whether more services will be added.
It is expected that the electric bus will cut emissions by up to 70% when compared to a conventional vehicle.
Nicola Moss, Moray Council's transport manager, said: "We wanted to use the opportunity to not just trial new technology but also to create a timetable for communities.
"The Dial M service is great but it's primarily there for school transport and social care journeys as opposed to running a timetable.
"We want to introduce an off-peak round-trip later in the year but want to see how this goes first. We don't want to over-promise and under-deliver."
Julie Cromarty, public transport officer for Hitrans, said countries across the continent would be looking closely at the success of the Moray bus.
"Electric transport is growing but is still fairly concentrated in the cities," she said.
"This project is a European-wide learning exercise for electric buses in rural areas.
"We've tested it in winter already and it did well."
Speyside Glenlivet councillor Derek Ross added: "A lot of these villages don't have connections at the moment so any improvement is very welcome."