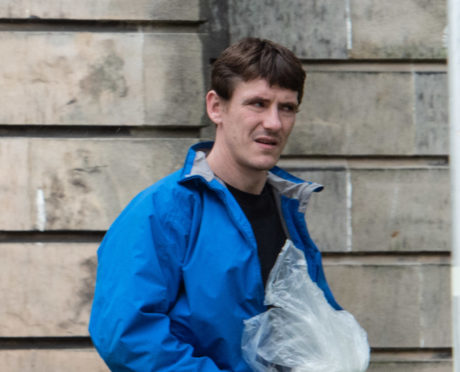 An Elgin thief pretended to be interested in a house swap in order to rob a distant relative of electronic devices.
John Geddes then wasted no time in attempting to sell his stolen items on a Facebook sales page.
The 36-year-old's brazen crime unfolded at Tania Stewart's home in Northport, Elgin on May 5 as she cooked dinner.
Each had their home on the market and Geddes claimed that he was there to measure her carpets and rooms with a view to them exchanging properties.
The moment her back was turned, however, he stole two of Ms Stewart's mobile tablets and her car keys before making a hasty retreat.
When Ms Stewart noticed that her items were missing, she contacted the police who, after a quick search of Facebook, discovered the products on a local Buy, Sell, Swap site.
Depute fiscal Kevin Corrans told Elgin Sheriff Court the victim and Geddes were distant relations but had not spoken in about 10 years.
He said: "Ms Stewart let the accused in her house while she was making dinner and let him measure the carpet and rooms.
"Later that evening, she noticed her tablet was missing as well as some other items and contacted the police.
"Officers identified Geddes on a Facebook site selling two items which Ms Stewart later confirmed were hers."
Geddes, of Maisondieu Road in Elgin, pled guilty to a charge of theft in that he stole two mobile tablets and a car key from Ms Stewart's home.
Defence solicitor Stephen Carty said his client had spent a particularly difficult time on remand waiting to face the charges.
He said: "I am concerned that Mr Geddes is once again at the top of a slippery slope and has fallen back into his old ways.
"This time, instead of a drug addiction, he has talked candidly about a gambling addiction.
"Alcohol also played a part in this.
"It is disappointing to see him back in custody.
"His sister and father contacted me concerned about his wellbeing while in custody as there are a number of individuals in Inverness who do not have great love for him."
Sheriff Olga Pasportnikov also voiced her disappointment that Geddes was back in front of her after abstaining from drugs and alcohol for so long.
She deferred sentence for six weeks to allow a drug treatment order assessment to be carried out and released him on bail, with the condition that he not approach Ms Stewart.