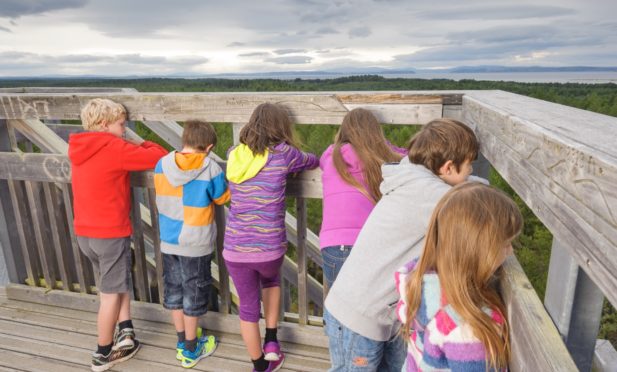 A popular viewing tower which offers spectacular vistas of the Moray coast has been shut due to safety concerns.
The Hill 99 viewing tower in Culbin Forest attracts visitors from across the region to enjoy a bird's eye view the Moray Firth.
But the Forres attraction has been closed after inspectors found that some of the decking boards there had degraded due to rain.
The inspection was carried out on Friday and it was immediately closed.
Forestry and Land Scotland (FLS) operates the tower and hopes to have it back up and running as soon as possible.
Justin Livesey, visitor services manager for FLS, said the organisation would rather close it than take any chances.
He said: "Our routine inspection of the tower uncovered some issues caused by water not draining properly from the decking area.
"It had not only been pooling on the top, but also clinging to the underside of boards.
"As a result, some of them have deteriorated more quickly than we would have expected.
"Public safety is always our number one concern so we've decided to close the viewing tower, rather than take any chances.
"We apologise for any disappointment caused by the loss of this amazing viewpoint and hope that we can get it fixed and re-opened as soon as possible."
The wooden tower was opened in 2008 and since then has played host to a steady stream of visitors who use it when walking through the forest.
It offers tourists views over the dunes and the firth and is located in the middle of the scenic route between Nairn and Findhorn.
Laurie Piper, Moray Speyside Tourism operations manager, was disappointed to see such an attraction shut during the peak visitor season.
He said: "I'm extremely disappointed to learn about this as Culbin Forest is very popular for visitors and residents alike.
"To discover such an impressive and popular attraction is out of commission during peak visitor season is less than ideal.
"The tower needs to be fixed as soon as possible.
"Moray has a world-renowned coastline and needs to highlighted so I hope to see it re-opened soon."
Forres councillor George Alexander highlighted the importance of attractions such as the viewing tower to a town like Forres.
He said: "