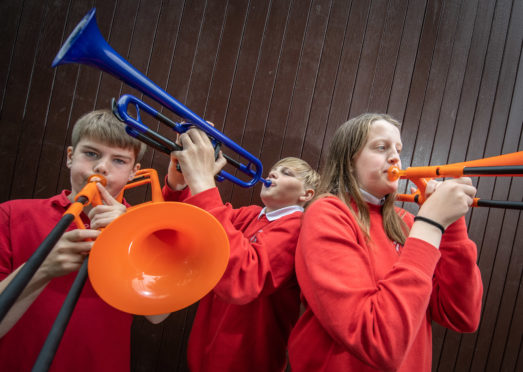 Pupils at a Moray primary school have picked up brightly coloured plastic trumpets and trombones as part efforts to create a new generation of brass musicians.
Children at Mosstodloch Primary School have spent the last year learning to play the plastic versions of the instruments, and yesterday showcased their skills in a concert.
It is hoped that being introduced to the style of music by playing pop songs on the colourful alternatives will inspire the P7 pupils to take up the brass versions after they move to Milne's High School following the summer holidays.
The school has paid for the bright orange and purple plastic instruments through Creative Scotland's youth music initiative.
They performed yesterday alongside their teacher Christine Barron – who has been learning the trombone with them.
The youngsters played hits by pop singer Bruno Mars and a raucous version of catchy children's tune Baby Shark.
Head teacher, Liz Rennie, said the music lessons would have numerous benefits for the 21 youngsters.
---
>> Keep up to date with the latest news with The P&J newsletter
---
She said: "It's all about inclusion. All of the P7 pupils have participated regardless of their needs and abilities. It's definitely contributed to a supportive atmosphere.
"It takes a lot of confidence to stand up and perform in front of the whole school. There was a bit of worry at first but once the backing track was introduced, and they were playing pop songs that they knew, they were fine.
"We're now looking to repeat it again with next year's P7 class in the hope that, as they transition to high school, they're tempted to pick up real brass instruments and continue playing and learning."
Moray Council's brass instructor, Alasdair Grant, has been running regular classes with the pupils to boost their skills and conducted the orchestra yesterday.
Sonya Warren, chairwoman of the council's children and young people's committee, described the initiative as an ideal way for pupils to learn as a group.
She said: "Music is great at bringing people together. It's such a good idea for these pupils to have the opportunity to learn how to play instruments together."