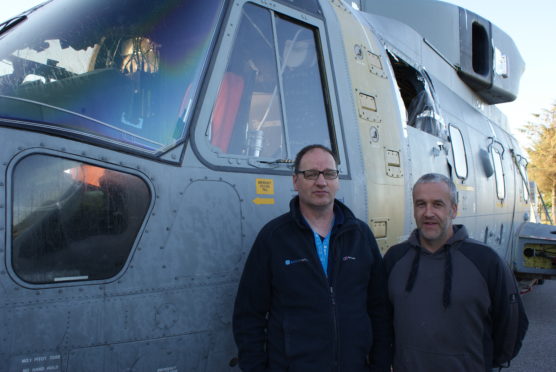 An aviation heritage centre has added a new helicopter to its collection.
Morayvia has recently acquired an Augusta Westland Merlin helicopter, which is well-known among military aficionados as a Royal Navy bird used to fly from aircraft carriers and assault ships.
It was a utility chopper that could be used for anti-submarine warfare or as a medium-lift transport vehicle.
Morayvia's latest addition comes with its own story, as it was the first production helicopter to fly on December 6 1995 and was used to conduct pre-service trials.
Since its withdrawal it has been in storage at RAF Shawbury, and when it is unveiled at Morayvia it will be the only Merlin on public display outside of military ownership.
It arrived in Kinloss on Wednesday and will now be restored and refurbished by volunteers to get it in top shape for visitors.
Morayvia director Richard Murray is looking forward to getting it on display.
He said: "The opportunity to secure a Merlin helicopter for display at Morayvia was one firmly grabbed by the board of directors.
"With the aircraft now at the centre our team of dedicated volunteers will soon have it open for visitors to see, although some works will require to be undertaken to restore components and other parts in the weeks ahead.
"As the first production Merlin to fly, and then the first to land on a Royal Navy vessel, this aircraft will always have that  unique distinction and we understand that this will be the only Merlin on display to the public out with military ownership at the present time.
"We are always on the look out for unique exhibits and will continue to develop the experiences available to our visitors."
Morayvia was formed in 2011 with the aim of preserving and celebrating the region's military aviation heritage and attracts tourists from across the globe every summer.
It was recently crowned Aviation Heritage UK's museum of the year.
The Merlin helicopter will join other new attractions such as cockpit sections from a Meteor and Buccaneer at the museum.