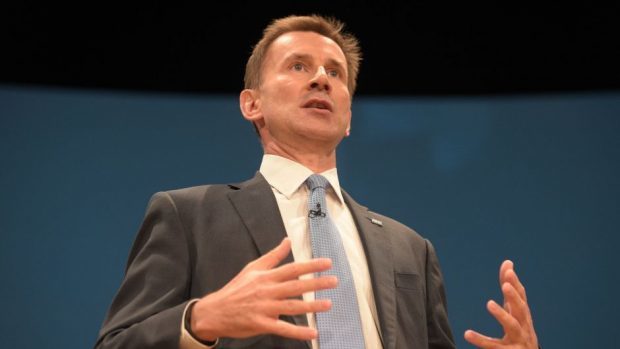 Jeremy Hunt has pledged to protect RAF Lossiemouth and Kinloss Barracks for "generations to come" if he wins the race to Downing Street.
The foreign secretary, speaking exclusively to the Press and Journal, said bases in the north-east would go from "strength to strength" on his watch.
The commitment comes as part of a wider pledge to spend an additional £15billion on defence by 2024.
Mr Hunt says the extra cash will ensure Britain's place as "a first-rank military power" that is able to combat "new threats to western values".
He said: "I was the person who secured a historic funding boost for the NHS and as prime minister, I'll do the same for defence.
"That extra funding would secure the future of RAF Lossiemouth for generations to come. On my watch, RAF Lossiemouth will never close. Instead, it will go from strength to strength.
"I will also make the necessary investments to ensure a bright future for Kinloss Barracks."
The potential funding boost for the bases comes as work continues on a £400million revamp of RAF Lossiemouth ahead of the arrival of the P-8 Poseidon submarine spy planes next year.
Heldon and Laich councillor James Allan welcomed the pledge, but reflected on how the current boom could have easily been replaced with a crushing blow had a massive public campaign not kept the runway lights on at the base in 2011.
Mr Allan said: "It's always great to hear of extra funding, especially when only a few years ago they were considering closing Lossie and Kinloss, it's truly a great turnaround."
Mike Mulholland, chairman of Lossiemouth Community Council, added: "We might sound a bit greedy now as we have a quite a lot of funding coming in, but it's great to hear of spending pledges like this.
"It would give the whole of Moray another major boost, we'd be very happy to see the investment."
But Moray MSP Richard Lochhead said such spending commitments made in the middle of a leadership race should be "taken with a large pinch of salt"
The former minister said: "Of course I would welcome any new investment in Kinloss Barracks or RAF Lossiemouth which is now Scotland's only operational base following cuts by Mr Hunt's UK Government but I think it's wise to take back of the fag packet pledges made in the middle of a leadership contest with a large pinch of salt.
"Mr Hunt could perhaps also focus on reversing the negative impact his government's policies are having on poverty in Moray and a range of other pressing issues such as Brexit especially the prospect of a no-deal Brexit that local voters rejected but which is damaging local business."
Mr Hunt also committed to continuing the policy of compensating soldiers who face paying more tax because they live in Scotland.
A divergence in rates means that income tax higher earners in Scotland pay more than they do in the rest of the UK.
Mr Hunt said: "I continue to believe that it's wrong for the SNP's tax hikes to hit the brave and loyal armed forces personnel based in Scotland."
Moray MP Douglas Ross, who is backing Boris Johnson in the leadership race, welcomed the tax pledge.
He said: "This is a welcome announcement and follows the positive news that Boris will guarantee the mitigation by the UK government to offset the SNPs Nat tax that impacts on service personnel in Moray and across Scotland."
He added: "These pledges by both contenders in the leadership election show how important defence and Moray will be for the next Prime Minister and I will always make sure our voice is heard at the heart of government."