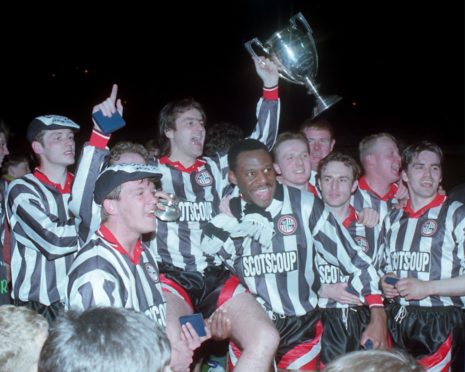 A top lawyer has backed campaigners fighting to reinstate Elgin City's lost Highland League title.
High-profile solicitor David Burnside has thrown his support behind the petition to persuade the SFA and the Highland League to officially name the club as champions of the 1992/93 season – after the title was controversially stripped at the time.
The lawyer is best known for his work for claimants in the aftermath of the Piper Alpha oil platform disaster, but was enlisted by Elgin City to launch a new appeal following the controversial ruling.
The punishment was administered when rival clubs claimed the reason Elgin requested to bring forward their final fixture at Forres Mechanics, which yielded a decisive victory, was to allow two suspended players to participate.
Mr Burnside claims that he was barred by governing body officials from representing the club at a Hampden hearing, meaning City were forced to attend the all-important appeal without legal representation.
---
>> Keep up to date with the latest news with The P&J newsletter
---
Now, with 800 people signing a petition for the title to be retrospectively returned to Elgin and the club due to play a 125th birthday game against Aberdeen today, Mr Burnside has called on the SFA and Highland League to take action.
He said: "I think a fine, a censure, or a forfeiture of the points would have been appropriate, but the penalty seemed to be out of all proportion to the offence – particularly with these previous instances of this happening with other clubs.
"It reflected very badly on Scottish football.
"It left a bad taste in the mouth and the people of Elgin still feel bitter about it.
"I know there is a campaign to put that wrong right and it would be good to think that there could be an acceptance that justice wasn't done.
"If the records were amended to show that Elgin won the championship in that year and the players got their medals, that would be a great outcome."
Highland League chairman, Raymond Cardno, said the decision would not be reviewed unless new evidence comes to light.
He said: "As far as I am aware, we have not received any new evidence that has come to light that would change the decision.
"There has been nothing further brought to our attention so there is nothing further to add."