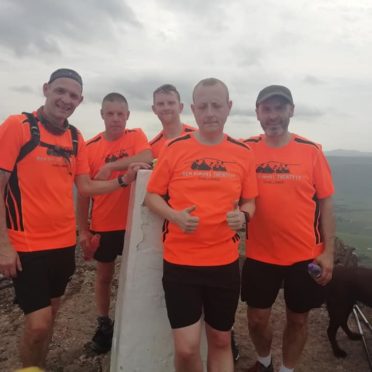 A group of walkers who attempted to climb Moray's highest peak 20 times in 48 hours have raised more than £20,000 for a local children's charity.
Two of the five walkers who set out successfully completed the gruelling challenge and completed 20 back to back ascents of Ben Rinnes.
Cameron Mackintosh and Peter Duggie overcame piercing gale force winds and driving, horizontal rain to complete the 97-mile expedition.
Meanwhile Gary Ewen and John McCruden managed to climb it 16 times while John Norman went up and down eight times.
They did it in memory of local children who have lost their battle with cancer, with all money raised going to Logan's Fund, a charity set up in honour of Lossiemouth three-year-old Logan Main, who touched countless hearts during his battle with neuroblastoma.
The dates are especially poignant with the ascents beginning on Saturday, which was the seventh anniversary of the death of Olivia Downie from Fraserburgh, and concluding on Monday, which is the second anniversary of Forres four-year-old Eileidh Paterson's death.
Sunday was the 10th anniversary of Logan's death.
Mr Mackintosh, chairman of Logan's Fund, was delighted to finish the tough task but was gutted that his fellow walkers Gary Ewen, John Norman and John Mccruden could not complete the challenge due to illness.
He said: "For me personally, I was delighted to complete the challenge, especially due to the horrible weather we experienced throughout the challenge.
"It really threw everything at us, from warm weather and a good temperature on Saturday morning to rain showers on Saturday night, with the frequent change in weather forcing us to constantly change our clothes.
"When I finished, I felt relief more than anything else and also a sense of achievement as that last ascent was the biggest struggle and I was pleased to get to the top."
The family of Megan Dickie, who died of cancer last year, gave Mr Mackintosh a stepping stone to place on the summit of Ben Rinnes in memory of their daughter.
After sponsorship, it is expected that at £25,000 will be donated towards Logan's Fund.
Mr Mackintosh, 50, thanked everyone for their support.
He said: "The support we got was fantastic and not just all the walkers, people came to say hello to us and wish us well, and we got lots of messages online as well."