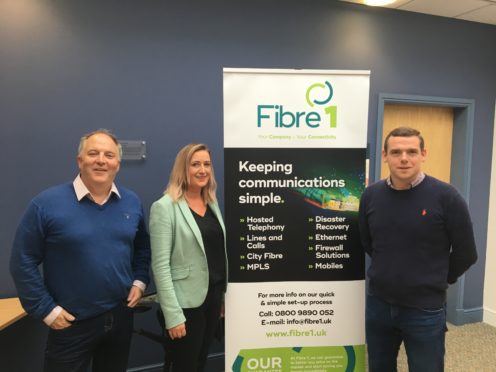 A visit to a local internet data business proved a worthy connection for Moray's MP.
Douglas Ross was a guest at the Forres Enterprise Park last week when he went to see Fibre 1 Ltd, who established their business in the region a few years ago.
The company works with major providers to provide connectivity to their portfolio of business customers.
Mr Ross had the chance to speak with directors Lynn Stewart and Stewart MacDonald and was full of praise for everyone involved with the firm.
He said:  "It was good to visit Fibre 1 and find out more about what the company does and hear about their plans for the future.
"It's particularly good that they established their base in Moray creating employment opportunities as the business continues to expand and grow.
"It's also really encouraging to see how committed they are to Moray through their sponsorship and I think they are a great role model for new businesses in our area.
"It was a really enjoyable visit and I'm very much looking forward to seeing how this business continues to progress in the future and I wish them continued success."
Stewart Macdonald, managing director of Fibre 1 added: "It was great to see Moray MP Douglas Ross at our Fibre 1 HQ today in Forres.
"We firmly believe smart fibre connectivity, and innovative solutions, enhance business growth across the UK, throughout all business sectors."